Advocate II
@1Louder
and I went on an exploration of the north rim of the Sycamore Canyon Wilderness two weeks ago. As he was pulling his trailer I followed to ensure nothing fell off or anything else happened that he couldn't see.
As we were trying to find a suitable site that overlooked the canyon I heard a "pop". Nothing seemed out of the ordinary so I continued on. Then I started to hear a weird thumping noise from the right front side of my truck. I stopped to see if anything was a miss and sure enough...
The top portion of the shock shaft had somehow sheared off. Notice the lack of threads on top of the shock shaft. Thankfully a friend in Flagstaff had a complete replacement in his garage which he brought out in the morning.
After stabilizing the truck, we had to come up with a way to compress the coil to remove the entire assembly. Enter ratchet straps.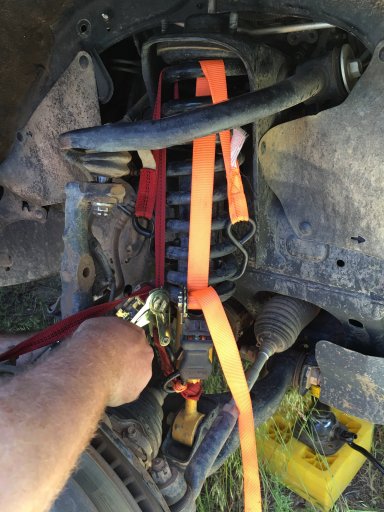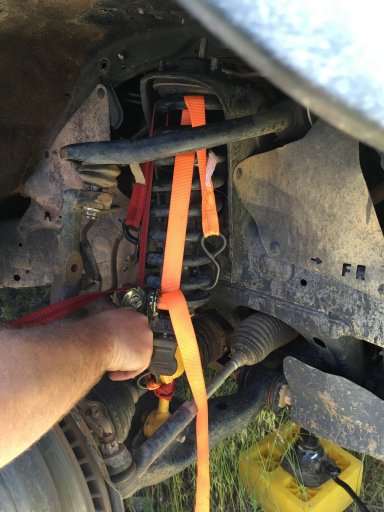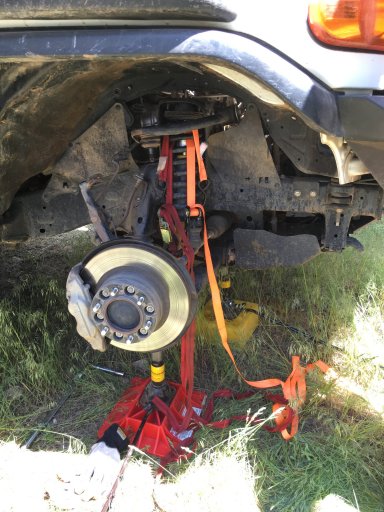 To compress the coil enough to get room we had to jack up the lower control arm with weight on the truck. Then using the ratchet function, compress some more. It took three evolutions of this and three straps to get the coil compressed enough to remove from the spring bucket. When we lowered the jack that was lifting the lower control arm we placed a blanket over the assembly in case the ratchet straps released unexpectedly. Once removed we wrapped the compressed assembly in the same blanket and had to cut the straps to relieve the tension. All in all it was a great learning experience. It further solidified that being prepared with the right maintenance tool kit, a little ingenuity, and having a good understanding of your vehicle that an incident like this will not derail your trip. We still completed what we had set out to see, just on a different timeline.
Lessons Learned:
1. Need to add a battery powered impact wrench to the kit.
2. Not a bad idea to keep a spare assembly in the trailer. I have previously planned for this, but did not have on this trip.
3. Add a Harbor Freight Packing blanket to the kit as well. Great ballistic shield and crawl mat.
4. By thinking through the problem anything can be solved on the trail.
Follow up: ARB replaced the shock as their technician had never seen a shock failure like that before.
Last edited: