Contributor I
60
First Name

Brian
Last Name

Moran
Member #

20500
hello everyone, my name is Brian and this is the story of how i went from this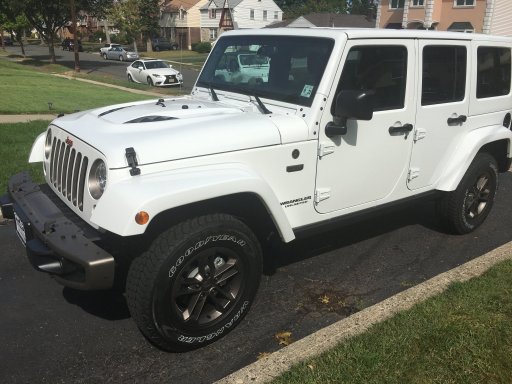 to this:
And all the lessons, mistakes, and regrets that are associated with the build. Hope you enjoy!(:
So anyway, it all started when i got stopped way too many times for speeding in my first car (a 2012 camaro) and ended up blowing the engine. I had been brought up hearing about the stories of my dad flipping his fj40's and offroading like a madman with his friends back in the day. (Such a tragedy i know, fj40's are beautiful) i was sick of the attention and fragile nature of sports cars, and i always had a soft spot for jeeps ever since my father would drive me around as a kid in the back of his bouncy YJ wrangler with no rear seat. So at the end of the day, i ended up with a 75th anniversary JKU.
with an old 1950's 12 foot john boat but no trailer, the first thing i ended up purchasing was the warrior products renegade roof rack, and a pair of cheap ebay LED halo headlights.
The halo on the headlights lasted a good 5 months before it broke so lesson #1 was dont skimp out on things. I pulled the wire for the halo running lights and just use them as normal LED headlights. As for the roof rack, it is LOUD without the air dam. I waited two years to buy it thinking it wouldnt make a big difference and that was a HUGE mistake. Also, the license plate was in the way of the rack swinging back on its hinges so i took the license plate off, bent it around the side of the jeep, and adhered it on there with some adhesive Velcro strips. Havent been bothered by police about it yet which is good. The rack was purchased through morris4x4 during a black friday sale. Someone handling the rack didnt like carrying the heavy package on such a busy shipping day and threw it around like it was worthless. It arrived destroyed, bent, parts missing paint like it was thrown down stairs, just terrible condition. I wrote an email with some attached images to morris4x4 and told them about the situation, the customer service was beyond anything i have ever experienced and they sent me a new one with double the packaging and i have never bought another part from anyone but them since (that i could get on their website) really just great people there.
at this point i had been wheeling and getting stuck in plenty of *interesting* scenarios. Before any lift or tires i then ordered a warn zeon 10s winch and a maximus-3 bumper hoop. i was happy with the stinger but i do have to say, that price is ridiculous for what you get. I ordered arb ipf halogen lights for the bumper, and they took 8 months to come in which im not sure was just high demand for them. They are great quality for the price ive had them for two years now with no complaints. Its too bad i lost one of the covers in a water crossing last week lol. As for the winch, i dont even need to tell you how good a warn is.
next up was the mods i was putting off doing because i was scared i couldnt do it. Teraflex 2.5 inch lift and 285/75/17 nitto ridge grapplers. I am mechanically inclined but by no means a mechanic, and have never done anything nearly as intricate. Thankfully, teraflex has a step by step youtube video on the install. being 19 and super concerned about doing everything absolutely perfect, it took me around 10 hours (i know thats too long) doing it all alone in my backyard with hand tools. I was very proud of what i had done.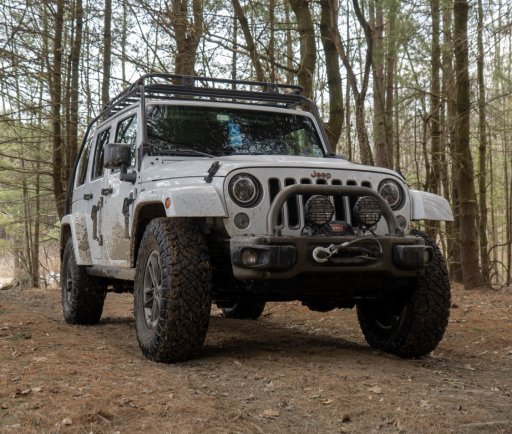 oh yea, and i got those kargo master hinge steps as well. They've worked great so far and hold my 300 pound friend no problem. Some of you may think im dumb for this but im just being honest, i got some teraflex quick disconnect swaybars but in my opinion it was a waste because i never connected them. I was wheeling around 2 times a week and they were just an annoyance to do so i just left them disconnected. They were easy to install and probably worth it for someone who doesnt offroad often or for someone who doesnt get easy annoyed by things like i do lol. The stock 75th wheels fit the 285/75/17 fine, i did use teraflex 1 1/4 spacers to accommodate for the width change and to stop rubbing on the sway bars.
i wanted to keep the stock bronze bumper, so i opted with a rugged ridge sparticus tire carrier. This allowed me to beef up the hinges without losing my bumper, and allowing the tailgate to be opened like stock rather then with a two step process like a swing out carrier.
i am not sure if im posting this correctly since this is my first thread ive started in a forumn... ill leave off here for today and continue soon. a lot more of the thread to catch up on, the build got beefed up a whole lot after that. Side note: instagram is 75th_jk if you want to see much better quality photos