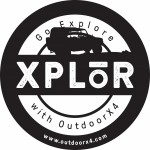 Rank V
Founder 500
Member
Supporter
Pathfinder I
About 1.5 years ago a remote-controlled article was featured in OutdoorX4 and on the cover of that issue was an RC4WD Limited Edition Gelande II RTR Land Rover D110 I have up for sale.
If you're into remote-controlled scale versions that are life-like and a lot of fun, this is your truck. It's battery-powered and includes the accessory roof rack, one battery, and charger. A link to see the details of this truck is below as well as a link to the digital edition of the magazine it was featured in:
http://store.rc4wd.com/Gelande-II-RT...on_p_4359.html
http://issue9.outdoorx4.com
The entire setup with battery and charger, as well as roof rack, retails for over $1k. This R/C is gently used and am willing to part with EVERYTHING noted above for $750 or reasonable offer. Post up, share, or PM if interested. Thanks!
__________________