Traveler I
For sale: 2006 Jeep Liberty CRD Limited. 305-396-1109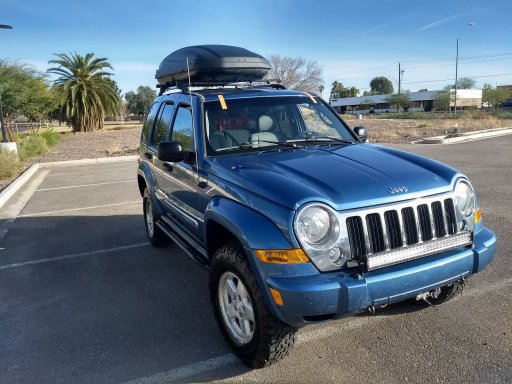 The basics - 2006 CRD Limited. ~125k miles, timing belt done at 100k about 18 months ago, along with water pump.
Recent repairs/maintenance - New drivers side CV axle, new rear UCA ( Moog ), CAC hoses ( stock ), front driveshaft rebuilt ( new u-joint and CV ), new rear driveshaft u-joints. Just changed oil, fluid in both diffs and transfer case. New battery. New windshield, replaced under insurance for a rock chip. New front turn signal lenses and fog lights. Great runner, cold A/C, everything works.
Has front and rear neoprene seat covers and has been covered for the 6 years we've owned it, interior is in great shape. Freshly detailed.
Mods: GDE Eco-Tune. RRO Rockfather Deluxe lift with OME springs, shocks, struts, as well as RRO UCA's ( installed at about 95k, front springs upgraded 6 months ago ). 245/75R16 KO2's with <5k miles on scuffed stock alloys. RRO supersliders, skid row skid plates ( 3/16" steel ) for engine/diff, transmission, transfer and fuel tank. RRO supersliders. Powertrax no-slip locker in the rear. Firestone air bags in back for leveling with a heavy load. $7k invested in parts/labor on the mods.
Homebuilt rear package shelf ( Has original rear roll-up fabric cover if you'd rather use that), three 12v sockets in the back ( two are high current ). Amazon 32" light bar on the front bumper with wireless remote. JVC Stereo with bluetooth. Neoprene seat covers all around.
Set up to tow behind an RV, can negotiate sale of tow bar with integrated surge brake, as well as Thule cargo box and Thule crossbars along with the Jeep. Can also tow 5k lb and has trailer brake controller.
Noisy - front suspension clunks sometimes in corners ( have had it looked at, no bad parts found - maybe springs banging into the control arms?) and rear locker clicks and pops, which is normal for a Detroit style locker.
Has some rust around rear center brake light and two small dents over the headlights, plastic over rockers has warped and touches the doors.
Currently in Quartzsite, AZ, but can deliver within a hundred miles or so.
https://photos.app.goo.gl/9HwlNJzpzR7mVNM33