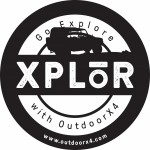 Rank V
Founder 500
Member
Supporter

Enthusiast III
For those of you subscribed to OutdoorX4 Magazine, the print copy shipped on Monday and it should be arriving in mailboxes in the next 10 days or so.
In the meantime, you can view the digital edition by visiting
http://issue14.outdoorx4.com
. If you're not subscribed, sign-up today using coupon code overlandbound to get a 10% discount on subscriptions/back issues/patches/decals/t-shirts. Sign-up today at
www.outdoorx4.com
.