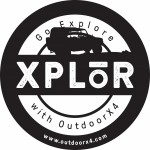 Rank V
Founder 500
Member
Supporter
Pathfinder I
This post is LONG overdue but I wanted to drop a note to let everyone know that Issue 11 of OutdoorX4 Magazine (outdoor by 4) was released in early October and you can view a 34 page sample by visiting
http://issue11.outdoorx4.com
.
This issue features Phase 3 of our 100 Series Land Cruiser Family Overlander build as well as a review of Nissan's PRO-4X truck, overland adventure in Idaho, the third part of a multi-part series on photographing your adventures, plus much more!
If you like what you see, pick up a print copy of OutdoorX4 by visiting the website at
https://outdoorx4.com/main/product/issue-11/
or use coupon code
overlandbound
to get a 10% off discount on a one-year print/digital subscription!