Contributor I
60
First Name

Brian
Last Name

Hutson
OutBack FP2-32 > 5000 Watt Pre-Wired FX2524T Inverter System / FP2-FX2524T. Two pre-wired Outback Power inverters for 120 VAC / 60 Hz (United States) applications.
Detailed Information:
The new FLEXpower TWO System accommodates all of the essential protective devices in an easy-to-install, fully pre-wired and factory tested dual inverter system. Utilizing a compact design and an easy-to-install mounting plate, the FLEXpower TWO System can be mounted in either a horizontal or vertical orientation to allow installation in more space-limited locations and is designed for a quick installation, saving both time and money.
FLEXpower TWO includes:
Two inverters and charge controllers
AC and DC wiring boxes
A MATE 3
HUB
Surge Protector
Monitor that displays basic voltage, current, power information
Outback pre-assembled and pre-wired systems take the concept of fast, easy installation to new level of performance, value, and flexibility. Everything needed outside of power sources and backup is pre-assembled onto a single factory tested pre-wired panel. Just install the mounting bracket, hang the system on a wall, make the necessary connections, and the system is ready-to-go.
The FlexPower Two System is ideal for applications with medium-sized power requirements such as larger homes and light commercial or back-up power systems. Slightly used (used very little) and in great condition. Comes as you see in the pics. Still retails for $6,833.19 off Princeton Solar Power. I am asking $2800 or best offer.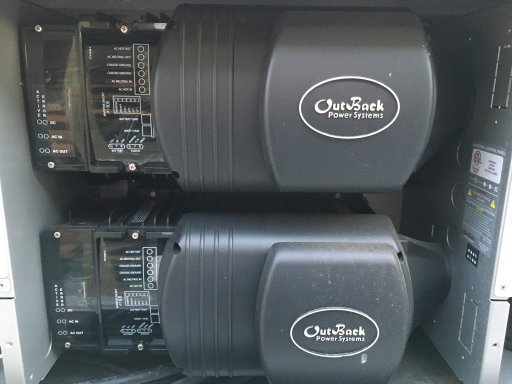 ACH]
View attachment 134944