Contributor I
233
First Name

Ryan
Last Name

Laraba
Member #

19019
Hello, Em and Ry here. We are new to the forum and the overland lifestyle in general, but we have been talking about it for a while and this weekend we decided to give it a shot. Over the past couple weeks we have been watching videos, reading forums, and scouring the internet, researching the lifestyle and the basics. Then Ry stumbled upon Overland Bound and that's when everything took off. We headed up to walmart, ordered off amazon and went through stuff we already had lying around in our old barn from Ry's grandfather who was an outdoors-man for his entire life. With new gear in tow and a membership ordered from Overland Bound we were ready to start packing up the Jeep! Bear with us as this is our first post and our first trip in General and lets just say it was a Success!
Ry here and i'm going to tell the story of our first Overland adventure! Bear with me! Our membership Showed up on Friday, the day right before we were heading out. Talk about perfect timing. After the jeep was washed and oils checked, tire pressures checked and other misc stuff, Em found the perfect place to stick our badge. Now we are official to the site and will show it off with pride. We cant say the same about our atlas showing up on time. Apparently there was a mix up with shipping and lets just say we were happy to have Gaia thanks to the recommendation through the Forum. With the badge on, jeep clean it was time to pack up!
We didn't have anything fancy as this was just a lets get out there and try this out. We took an old military container we had from previous service since it was water tight with good latches and fit perfect in the back of the jku. Within the box we stored a tarp, our tent, air mattress, fold up shovel, fold up saw, lanterns, med kit, water purification, recovery gear, camp shower, matches, para cord, and other small misc supplies that we would rather have and not need then not have. The box still has plenty of room for future needs and I can still easily throw it into the jeep himself. Then I grabbed my Smitty Bilt air compressor from his Jeep and tossed that in there as well for all our air needs. The blue container is filled with 6 gallons of water and not pictured will be our cooler and my high lift jack. With the rear cargo area filled we closed it up and moved to the back seat of the Jeep.
The jku has a good system with the rear seats folding down and allowing the rear cargo to mate with the back of the rear seat to provide a flat area in the back. This helped out in the long run, as everything kinda fit together like a puzzle. So the first thing that went in was a folding table that Em picked up from Walmart at a good deal. I was going to build a small table but lost a day last week from being sick and working late. Luckly as always Em came through and bailed me out when i needed it! On top of the table we put a Jeep duffel bag that was Em's fathers. I love that he had a jeep duffel bag and it fit right in with us. Inside of it Em packed out blankets, sheets, and pillows. Em is also great at taking photos so we got her a nice hard case from harbor freight to hold her nice digital camera. That stayed within arms reach at all times. Last minute we pulled some chairs that we had from around the yard. They are very comfy but rather bulky but for the time being they will be what we will be taking with us. Then went in our small lunch box with some drinks in it, a bag of small snacks for the road, and another jug of 2.5 gallons of water (not pictured). You can never have to much water.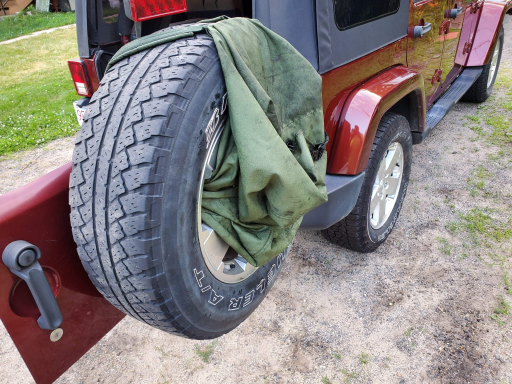 This right here may not look like much but it is very important to both of us. A trash bag! We looked up spare tire trash bag set ups and couldn't justify spending a boat load of money of a trash bag. Thats when I got the idea of going and grabbing one of my old Sea bags. I have 3 of them and they don't do much now adays anyways. It was a quick solution and I recommend it to anyone looking for something for their spare tire. Go to a surplus store and you can probably get one pretty cheap. we placed a trashbag inside of it for food waste and closed it up. Used the shoulder straps around the tire and it was good to go! Tread Lightly!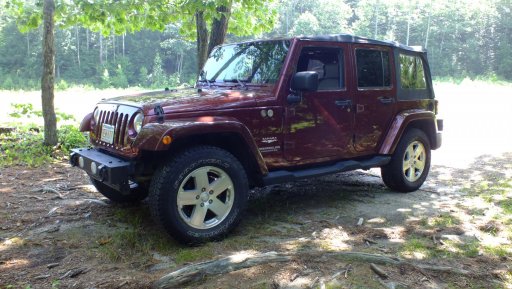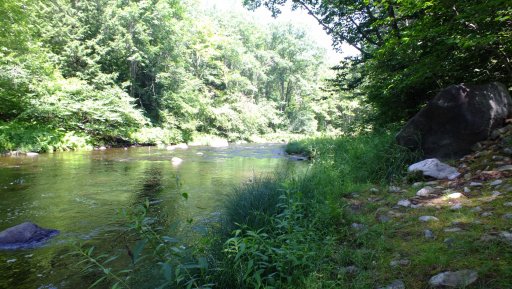 We headed north. Down old back roads, through small cute towns and just enjoying each others company on our first adventure. Going through farm land and jamming out to some tunes, we spotted this spot. We quickly pulled over and em instantly grabbed her camera. The river flowed and we couldn't stop smiling. Something about the peaceful sound of water on rocks, told us this was what we were looking for. The sense of adventure that has been in us for a while was filling us even more! We took some more photos and it was time to keep heading north. Life is good.
After passing farms, old houses, town lines, and a couple hours, we were eager to see what we were going to find next. As if we called to them and they called to us, The mountains reveled themselves over our hood. A new wave of excitement went through us and we were enjoying every minute of it. Coming from a small town and being outdoorsy people, we thought it was all the same. Let me tell you, its not. These were just small ones but they still made us gasp and realize that there is so much more out there for us to explore. Excited we pushed on.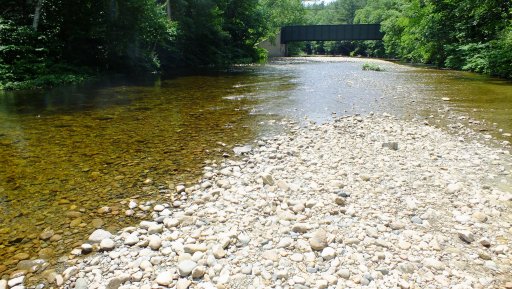 We drove through a few more towns and eating some snacks, Em spotted this as we drove by. Naturally my curiosity kicked in and I found a spot to turn the jeep around and headed on back. We parked the jeep and headed on down the path and onto the river. The water rushing by, kids swimming in the pools by the falls, the birds chirping and the sun on my face reminded me how lucky we are to live in such a beautiful and amazing country. Doesn't matter who you are, Your an American and you should always be proud of that. Thank you to who ever hung that massive star spangled banner above this beautiful set of falls.
After climbing and climbing, we started to descend and getting closer to where we planned to camp for the night. The windows down and just enjoying going below the speed limit for once in my life em spotted a small clearing on the right side of the road. All she said was "I wonder what that could be for?" My first thought was a spot to pull over if you have car trouble coming down the long decline. Or maybe just a spot to take a small break from driving a while. As it got closer, the trees cleared and neither one of us were prepared for what was about to appear ahead of us. We were both speechless. Em broke the silence with an "Oh my God.." my directional was already on. I finally got it together and told her to get the camera.. it was already out of the case and her door already opening. The landscape right here, The beauty in it, this told us that we have to travel. We have to "Outfit and Explore". This right here has been here forever and we were just learning about it now. My mind was running a mile a minute. If this is right here 3 hours from my home, whats 6 hours away, or whats on the other coast line. I always thought when i saw photos online that those people must know someone who has been there or grew up in the area and its just what they have. But now, now i know that we just need to grab an atlas and get in the jeep and go. This is everywhere and I can't explain how excited we both are that it is all over this beautiful planet.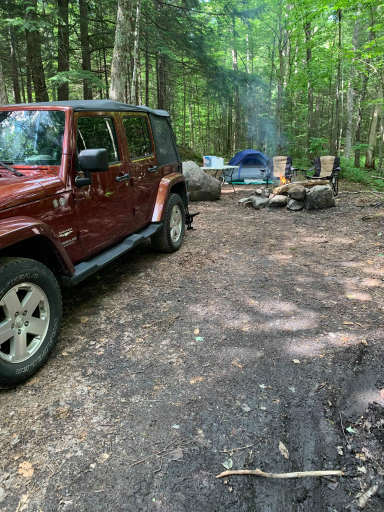 We reached camp just in time before all the spots filled up. Its dispersed camping but thats exactly what we were looking for. We started to set up camp pulling out our tent, chairs, table. Forest patrol stopped in to check up on us to make sure we were ok. We told him we were all set and he moved right along. I didn't think we looked that much like rookies. Em started a nice fire and we set up our tent. Then our table and our kitchen container that holds everything we need to cook and eat with. We sat by the fire, played some cards, listened to some music and just enjoyed the quite. Its a quite we are not used to since we live in the center of town. We both agreed we could get used to this. As we were in camp we did also learn some things. We have decided that we need a power saw of some kind. Either my chain saw or battery powered sawzall with a nice blade on it. We made do with the hand saw we had but would have been easier with a power saw. We decided we should have a large bowl of some kind to mix food with. Other card games to learn or some other game to play while in camp. Also learned that our 3 person tent we bought is way to small for my 6'3" body. All in all we were having a blast and nothing could dampen our spirits. In fact it got even better when Em decided it was time to cook.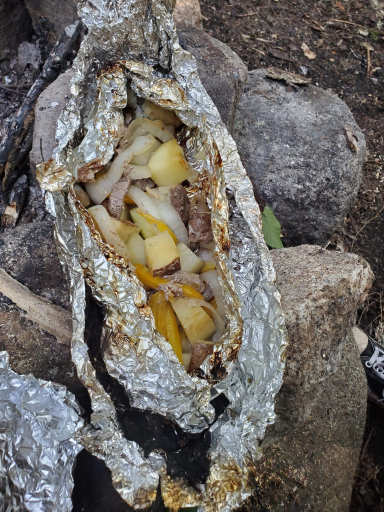 Now i could try to explain to you Em's cooking but I think no matter what I say it would be an understatement. She takes the most basic ingredients and throws some type of spice on it and it just is amazing. We decided in our meal plan since it was our first time we were going to do some type of steak for dinner. Now we settled on what Em calls a Steak foil Pocket. I've never heard of it before but I'm always ready to eat anything with steak. She said that she learned it from her Father. She mixed steak, onion, peppers, potatoes and some spices together. Then she put it all together in some foil. I started to pull out the pans and she takes the foil and throws it into the fire. I was so confused but she had the look of "Just trust me" so i went with it. Let me tell you I am so happy I did. Everything was cooked just right and was delicious. Never mind the smell it gave off as it sizzled in the fire. She amazes me each and every day on what she can come up with on the fly. Not to mention the bacon, eggs and english muffins we had in the morning. Sorry no pics on that. After some smores, we sat around the fire and just talked and enjoyed the no worries lifestyle before we tucked into our tiny tent.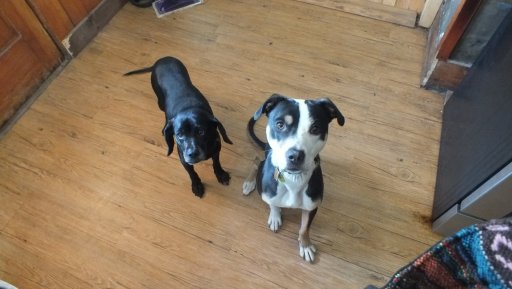 We got up after sleeping in for the first time in a few months and as i started to pack up camp Em made some breakfast. Amazing as always we finished it off with some tea and finished packing. We cleaned the campsite, and even picked up some trash on the trail leading in and we headed on our way. For whatever reason we only stopped once to take a photo of this powerful river. Not sure if it was the fact that we were heading back into our stressful lives with work and school or that we missed our two little pups at home. Either way we were not looking forward to the ride home. That could have been the lack of pictures. Em kept saying we should jsut go get the pups and head right back out there. If only it was that easy. We have a new sense of adventure now and all we want to do is fulfill it. First thing Em did when we got home was pick up the Atlas. We will continue to try to refine our Load out and get a set up that works best for us. In the mean time we will continue to use the set up we did on this trip as it worked out great for us. Thank you all for the inspiration to get out there and explore. We look forward to hear from all of you and your adventures as well. Thanks for tagging along on this long post.
Regards
Em & Ry