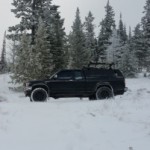 Contributor I
Hello all my name is Maurice (aka oldmancrash and yes there's a reason) live in Montana. For the last 35+ years I go out into the mountains and play, 4x4, camp, fish, hunt, prospect and in general just explore. Sometimes alone and sometimes with my wife. In the fall of 2014 I came across the website www. xoverland.com (also Montana based) and was introduced to overlanding. I had no idea that what I have been doing for years had an official name. I just called it playing. Since then I have spent countless hours researching overlanding. The idea of my build is to build a cheap but still have a very dependable rig built with dependable parts. I actually had started in March of 2015 building my very clean 95 Toyota extra cab with a 3.0 v6, 5 speed 4x4. But a couple weeks ago was presented with a very very clean 96 Tacoma standard cab base model with a 2.7 4cylinder 5 speed 4x4. No electric windows, power door locks. Heck it does not even have air conditioning. For me the perfect overland rig

So here is my immediate build plans.

I built a utility rack for my 96. So am going to cut it down to fit the std cab

Swap tires as both rigs have new tires but I like my larger Toyo tires much better. So to the 96 they go

Add a 2 inch lift

Build and install onboard air and tank system (but yet build so it can easily be removed for remote use)

Dual batteries

Install a 40" LED light bar

Install 4 LED flood/spot lights on the utility rack sides

Install LED strips inside the topper for better light at night inside

Lighted toggle switches for what needs them

Blue Sea fuse panel to make sure everything is protected

Install a CB and 2 meter radio

Basic but custom front and rear bumpers with receiver hitch for movable winch

Warn M8000 winch

All-Pro Off Road rock slides (their shop is about 30 miles from me)

Big Sky Gun Racks BSR2 (Shop about 200 miles away)

All this completed by June 4th as I have been invited to participate in the Ol' Farts Oreidavadah 2015 ride over on Expedition Portal. So I have lots to do by then.