Contributor I
Hey all!
Planning a trip from Cincinnati, Ohio to the Badlands then Black Hills through Yellowstone down through the Tetons and to around Boulder, Co then hauling our way through Kansas to the Ozark's and then back to Cincinnati. The plan is to stay a day or two in the Badlands and Black Hills up to 5 or 6 days between the Yellowstone and the Grand Tetons then finding another place to camp around Boulder (Boulder's is a pitstop to replenish, say hi to friends and truck on) then the Ozark's on our way back home. We have planned 15 days for this journey.
Our main destination for the trip is Yellowstone and the Tetons the rest are nice breaks for the drive and other places we want to see. Who has traveled out to Yellowstone and to the Tetons before? I am hearing mixed reviews from friends. Some say you spend all your time in Yellowstone and you still will need to go back multiple times. Then other say its a place to see but the Tetons are where you should spend your time. Both comments are coming from people who have spent time in both. Also if you all have any thoughts on the Badlands and the Black Hills throw them out there. All info and opinions are welcome greatly appreciated!
What we are looking to get out of this trip is to get in some good hiking but also some peace, quite and adventure. We picked up a new RRT and basically looking for a good time. We have plenty of experience camping and I have some driving off road but this is our first "overlanding trip". Our xterra is equipped to take it on though this isn't a trip for spending most of our time crawling around its more to get out to some open land and forest roads and find some secluded campsites.
Thanks in advance, Cheers!
- Also plan on doing some Fly Fishing so any tips on that let me know.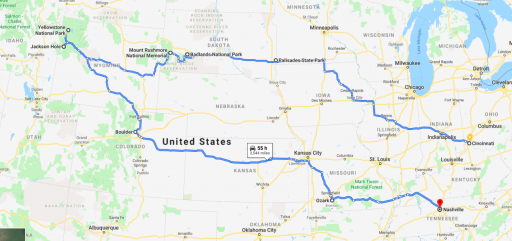 (Roughed out google map to work out drive time and milage)