Influencer II
Hello my fellow Kansans and Rocky Mtn members,
I created this thread for you to introduce yourself. Tell us all about you, your family, and your rig. Share some pictures and get to know others in our state, as well as region. I will start us off.
I learned about overlanding back in probably 2016 after wanting to run trails without being a rock crawler and have since outfitted my 2004 Jeep WJ to go where I want and do what I want. I love taking the road less traveled and unlearning pavement. I love being able to load up and go. My Jeep has slowly become the adventure rig I have hoped for since I started my outdoor lifestyle as a young boy.
My Jeep was stock until I planned a much needed vacation to the Roosevelt National Forest outside of Ft. Collins, CO. It was teetering on winter weather, so I opted to outfit my rig to allow my dog and I to sleep in the back. I learned a lot from that trip, but I also learned a lot while running the rugged back roads around here. Some of the worst, yet best roads for off-road travel reside here in the Flint Hills of Kansas.
My goal is to be able to camp off-grid with my lady and the kiddos for days at a time since they prefer to glamp a little more than I like. This is getting easier the more I take them out and simplify our kit.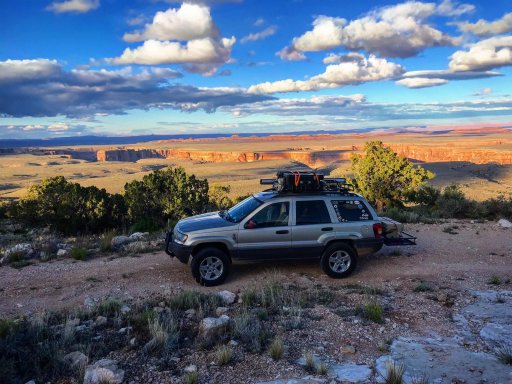 Last edited: