Rank III
Member
Adventure

Member III
703
First Name

Bryan
Last Name

Findell
Member #

27053
Hey friends!
My gf and I are working out details for a month-long trip. 7/14 to 8/18 and thought I'd run this through the group here on suggestions or potential offshoots.
We're taking the first two weeks off then will have to be working remote and driving evenings/weekends the second half.
We figured we would camp maybe half of the time and split Airbnb and friends places the other half.
I attached some route photos and the rig.
Mostly we will find designated camping spots but I still need to dive into the apps to find some light off-road spots we could get to. The truck so far is still stock wheels, tires, suspension. So can't do anything crazy yet. Would love to hear from anyone on places we could offshoot to for some good forest service spots to camp.
Has anyone done anything like this and have any suggestions or just good general advice?
Again, not really an off-road trip more of a parks and beaches kind of trip.
Thanks ahead for any input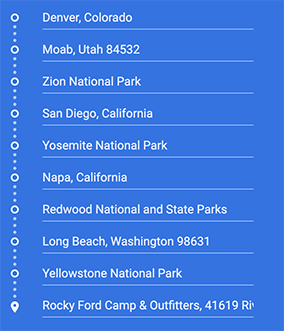 Technically Omaha, Nebraska before and after but Google only allows 10 stops.