Contributor II
Howdy howdy...
At the moment the proposed route is still open for suggestions, however there is a general idea of some high-point's which i would like to hit along the way. There is not a strict time-frame, yet my current plan is to depart from Cool Springs Station Museum - (located on Old Route 66, 'The Mother Road', 8.3 miles East of Oatman AZ) on the morning of Sunday 16-July, following Route 66 East until we reach Seligman AZ where we would check trails leading towards the Grand Canyon. I've attached a rough-draft of the route map, however there are no trails marked, as this is simply our starting point.
During the journey I will be documenting various points of interest for a daily YouTube vlog, so the pace will not be too rushed...straying off of the beaten path is the idea.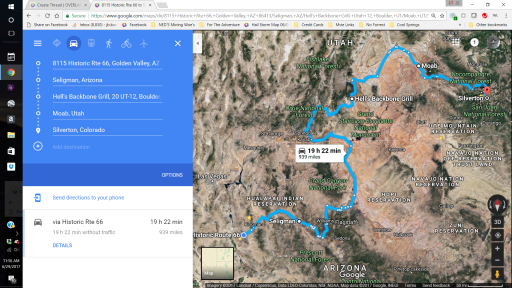 For additional detail's, question's, or concern's...let me know and we can go from there :)
All is well which ends with a smile :)
jb - the "Overlandinger"