Member II
2,843
First Name

JASON
Last Name

SMITH
Member #

1699
My first taste of vehicle based camping, exploring is hard to pinpoint, because it always seemed to be part of my life. I'm an only child, who grew up in a small farming community in Southern California. My parents didn't have a lot of money, but we had enough to live comfortably. We always had either; a boat, motorhome, or travel trailer, which we would use at least once or twice a year. In 1985, my parents bought a brand new CJ7 Jeep Laredo, which we took on an epic road trip to the 1986 World Expo in Canada. Three people, living and camping out of a CJ7 for two weeks traveling several thousand miles. Overlanding 101.
In my teen years my dad and I had a pair of dual-purpose bikes, A Yamaha 350XT and KLR 650, which we rode, and camped with throughout the Mohave Desert. Later on we upgraded the bikes to Baja's which where modified to have a bed in place of the passenger seat. We always took at least one big trip a year, involving camping, driving, and exploring new States.
By my late teens, my parents and I had managed to visit the entire west coast, and the southern half of the country. Our last trip we took while I was home had the three of us in a standard cab 1993 4x4 GMC pickup, which we drove to North Carolina, via Mississippi, and back through Kansas.
My young adult life I spent exploring behind the wheel of that first Jeep, racking up 230k miles myself. I learned in that time, space was a premium, and weight made all the difference. As I made the transition from a young man, into a family man, and finally a middle-aged father, the desire to get away from it all, hit the open road and find new places never left me. The means to do that however did.
Nearly ten years ago, we found ourselves homeless. After making some rather bad financial decisions, we found ourselves needing someplace to call home. My family offered us some bare property in Northwestern Arizona, along with a 25ft. park-model. We were off the grid, 35 miles from the nearest town, living off of a single paycheck. Happy to have a roof over our head, we began to make the best of it. With freezing winters down in the single digits, to sweltering summer heat well into the triple digits, we found ourselves fighting the elements to stay healthy and alive. Comfort and luxury was not a daily expectation. Using only cash, we put together a solar charging system, and began building more comfortable living arrangements, with a wood stove and enough power to use a fan in the summer at night. Pioneering our homestead was another full-time job, with every waking moment spent in gathering and splitting wood in the winter to hauling water in the summer. We very quickly had created our own oases in the desert. We were no longer homeless, but we pioneered a new way to live. Unfortunately, the novelty of full time camping would wear off. As a family our idea of getting away meant only two words, comfort and luxury. Able to enjoy a full night sleep was a true luxury.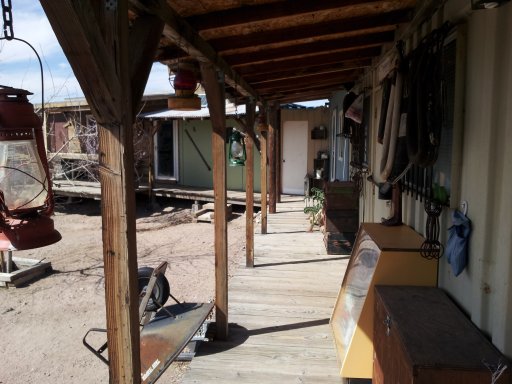 Those experiences changed the way I looked at Overlanding. From a distraction of the daily grind, to a skill to be cherished if life fell apart again. I began to explore the world of prepping, ensuring that I had transportation, shelter, and enough food and water to make it back home, from wherever I found myself when things fell apart.
I still do that today. I have an internal frame backpack with shelter, meals, and fresh water for three people for one week in my truck at all times.
Today our financial situation is better; we no longer have to live off-grid, we no longer have to fight the outdoors, but we can begin to enjoy them once more. The family and I make time to get out, explore new places, and even camp. In the past several years we have had opportunities once again to travel to new places.
Camping during our vacations, after so many years spent fighting the elements, seems like nothing. In fact in 2013 we took a 10 day trip to Kettle Falls Washington in a Kia Soul, tent camping along the way to a family wedding, more than a few people thought we were nuts, but it was a memorable trip. Today I find the priorities of others in what they bring with them when they camp, a little eccentric. I'm a little mesmerized today when we are sitting next to our small tent and watch a 40' diesel pusher motorhome drive by, would it be nice to have a hotel room with you when you travel. Of course. Does it make the trip anymore enjoyable? I doubt it.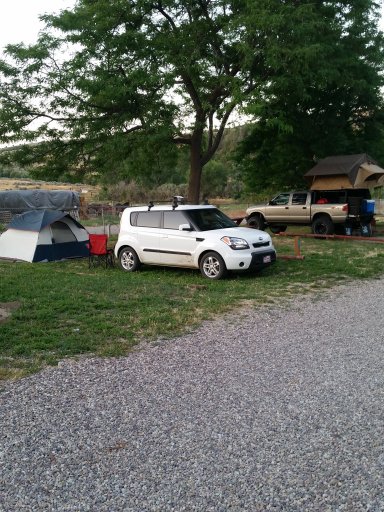 My tastes on Overlanding seems to evolve, but there is one constant. I enjoy going farther with less, knowing that I will be as comfortable as I can make myself while I'm there, and knowing that when I get home, comfort and luxury is waiting for me!
Last edited: