Traveler I
I bought my GoalZero Yeti400 to run my A-PAP and charge stuff up while camping. Then I ditched my cooler and got a fridge. The Yeti can run the fridge all night but a fridge and the A-PAP puts a big drain on it. There are Anderson ports on each side so you can daisy chain 400s together, so why not just use a regular 33ah battery similar to what sits inside the sexy Yeti case? After some googling I found quit a few people have done this with great results.
I purchased everything from Amazon, I'll link below, except the Yeti400. I got that from GoalZero's website under blemished items. Hardly a tiny scratch on it but knocked $100 off the price. You can find some of this stuff cheaper at other sites if you're willing to wait on shipping.
Got my Yeti400, 33ah batteries and my Anderson-to-post connectors all set up now. Everything charges/discharges through the Yeti as if it's one big battery. I can run it with both batteries connected (1200wh), one battery connected (800wh) or just the Yeti (400wh). NOTE: doing this does not increase power output, that's governed by the Yeti's inverter, it only adds power reserve to run stuff longer. Still can't plug a 1100w AC into it and expect it to work. 300w per plug is the max on the yeti400.
So here are the links to what I bought:
Dual Positive/Negative ATC Style...
ExpertPower Q02BLMFM12_33 AGM (2 Pack 12v Rechargeable Deep Cycle Battery 33Ah, 34Ah, 35Ah. Replacment Model for Pride Mobility Scooters
NOCO Black HM082BKS Group U1 Snap-Top Box for Mobility, Scooters, Lawn and Garden Batteries
And here are the pics of the setup on my bench. I'll post more pics once everything is in the Jeep.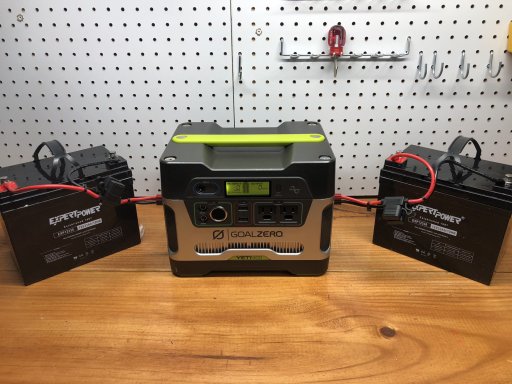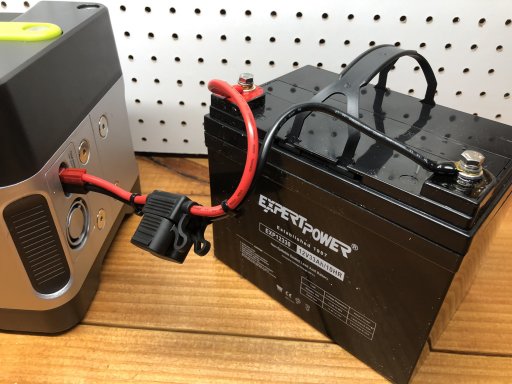 I will post updates as to how it's all working as I go.
Cheers,
Carl