Pathfinder I
I had such a great time on my first trip to Moab that I had to return! My 17yr old brother-in-law has taken an interest in off-roading but has limited experience and he drives a Camry. In fact, none of my in-laws have any off-road experience so I figured why not round us all up in Moab at the Sand Flats recreation area and do some rock crawling.
Picture of our camp first morning in Moab waiting for family to show up. We ended up with me, my wife and our son, my parents, my wife's parents and brother, and my wife's friend with her husband and two kids. We were camped in the Sand Flats Recreation Area campsite E-1. It was a fantastic spot with plenty of room for our group. The only real complaint anybody had was the 100 degree weather, but I guess that's what we get for camping in Moab in August.
After spending a very long highway day on Thursday from Phoenix to Moab, we opted for a hike to Morning Glory Arch to stretch our legs and let our kid and dog get some wiggles out.
This was a great family hike. It is 5 miles round trip with numerous water crossings to cool off with. My little boy and our dog loved splashing around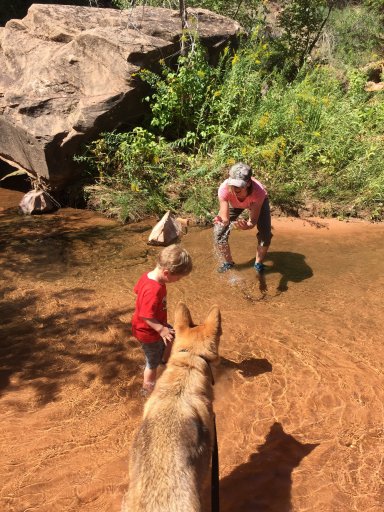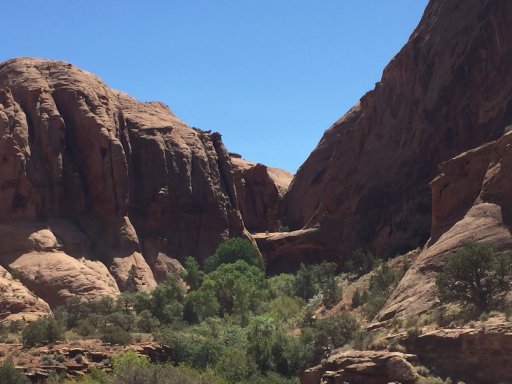 With so much interest in rock crawling and limited seating capacity in the FJ, we decided to rent a Jeep Rubicon from Cliffhanger Jeep Rentals. We've had a friend use them before and had a great experience and our experience was the same. Friday night and Saturday Morning was dedicated to Fins N Things. This was my wife's favorite trail the last time and so we hit again while it was cool outside. My mother-in-law was in charge of photography for this ride and I will post of pictures as soon as I get copies.
Saturday afternoon we hit up Hell's Revenge! Me and my brother-in-law drove the FJ while my father-in-law drove the Jeep.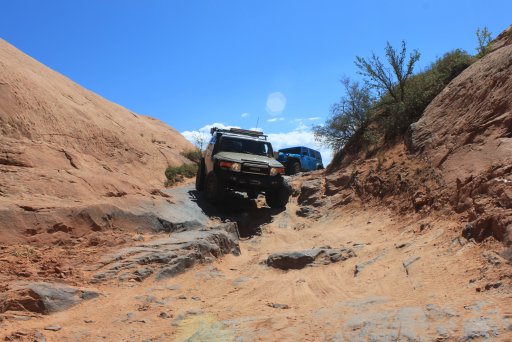 New to rock crawling, my father-in-law was taken back by all the long steep climbs and descents as well as the near physics defying amount of traction the "slick rock" provided.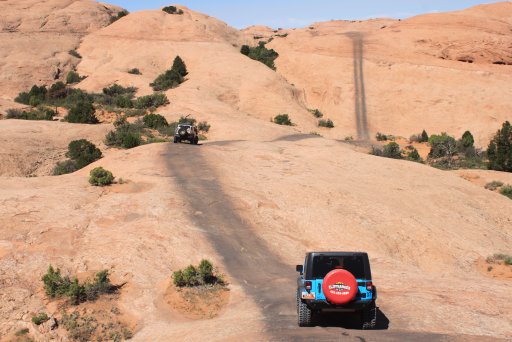 There were some talks about an obstacle called Hell's Gate. It is something I would love to conquer one day but I do not feel that my experience level is up for the task. Spend time on YouTube and you can find videos of stock vehicles going right up it and modified ones tumbling down it. As we rolled up to view the top of Hell's Gate, we found this unfortunate Bronco on its side.
The group in the Bronco was from Ontario Canada and this was their first time to Moab. Their unfortunate experience provided me an opportunity to show my 17yr old brother-in-law how the off-road/overland community comes together to help each other in times of need. The weight of the bronco was a little concerning but out came the winch cable and everybody quickly went to work to get our new friends back on all fours.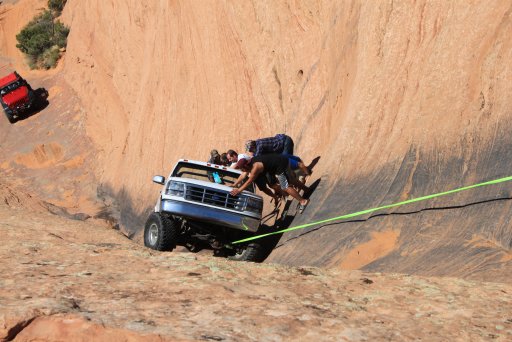 After some muscle and lot of strain on my rig, the Bronco was safely at the top with minimal damage. A little hot and sweaty, we were treated to some grateful handshakes and smiles. This is what our community is all about!!!
Half way through Hell's Revenge we were treated to a beautiful view of the Colorado River.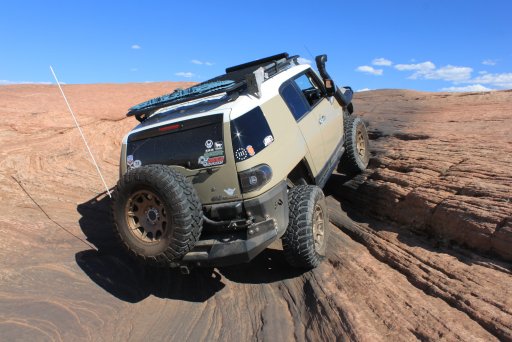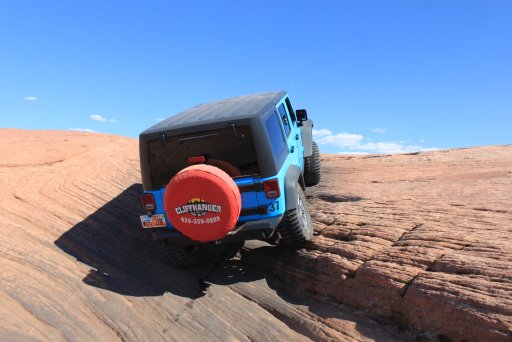 By the end of the day, My Father and Brother-in-law's skills had greatly improved. For their first time, they did fantastic as drivers and more importantly as spotters. It was hot on the trail, but traffic was very minimal allowing us to take our time and focus on being safe and learning the ropes. My Father-in-law kept commenting that he had a kindergarten level of off-road knowledge attempting a college level course. I am grateful for all those who have helped me along the way and I'm glad I was able to pass it on.
Sunday afternoon our family and friends all headed home so we broke camp and headed up Sand Flats Road to explore the La Sal Mountains. Early in the evening, along the La Sal Mountain Loop, I applied the brakes while going down a hill when we heard a lot screeching/grinding sound followed by a locked up tire. Our evening plans had just instantly changed! The bottom bolt holding the brake caliper to the spindle had disappeared and as I applied the brakes the rotor pulled the caliper outward against on of my brand new wheels! Being on a steep hill, we opted to further sacrifice the wheel to get to flatter ground before busting out the hi-lift.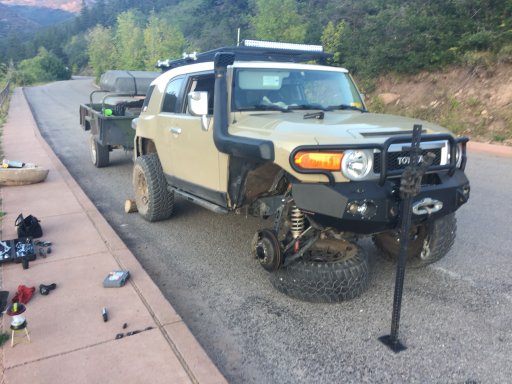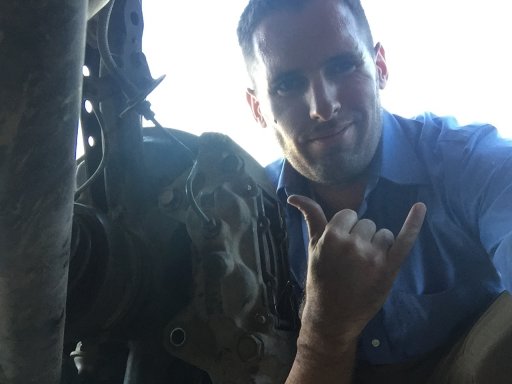 A passerby stopped to lend a hand and helped me with a temporary fix to get me back to town. I ended up removing the top the bolt and relocated it to the bottom so when I applied the brakes it would hopefully pull the caliper into the rotor and not away from it. Just after dark we were up and running and headed back to town for a much needed hotel stay. Monday morning we found a bolt that fit but was not grade 8. We took a chance on it and set our sights back to home. There still being a couple days left in our vacation, we found this spot on our way at Recapture Reservoir near Blanding UT and decided we needed one more night of camping.
Tuesday Morning we headed for home. I had never seen Monument Valley, so made a slight course correction and headed for some new roads.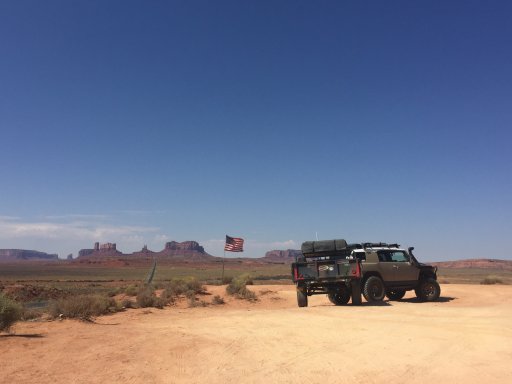 We call our rig Five & Dime and I've lost plenty of blood, sweat, money, and tears working on it. But, it is always worth it!