Rank V
Founder 500
Member
Pathfinder I
Guess its time I fill out my vehicle description thread.
It's an 06 I bought new in '07, S model, auto.
Just bought primarily as a daily driver to quit driving the F350 so much.
Found a couple of Xterra forums and started reading up, and it's been downhill ever since for my wallet and savings account!
I first started off with a PRG advanced coilover kit (radflo coilovers, UCA's, AAL's, bilstein rear shocks) and built some sliders. What an upgrade from the stock suspension!!
Then a rear bumper followed.
Then a front bumper build & some skid plates.
Lights, wiring, etc
Diff cover
Another new bumper with some subtle upgrades and backup lights this time.
Stayed pretty much the same for the most part for several years. More gear, full skids, more gear... Well used and enjoyed
A snorkel somewhere in there
Then the coilovers got worn out and leaked out the oil, so what to do at this point?
Rebuild or really REBUILD??
Figured it was time to do the TITAN SWAP as it's referred in xterra forums.
Unbelievably, all the front suspention and diff from a titan truck will bolt up to an xterra or frontier.
Wider stance by nearly 3" and with a good coilover and aftermarket UCA, almost doubling wheel travel to near 11".
Brand new M205 front diff, CV's, LCA's tie rod ends, Braided brake lines, Rough country UCA's and new Radflo remote reservoir coilovers made for the titan swap.
Rear end got an almost brand new M226 (dana 44 variant e-locker rear), Alcan springs 3" lift, #450 heavier rating, Custom tuned FOX remote reservoir shocks, U-bolt flip kit, HD aluminum diff cover, Timbren bumpstops & relocated brake line mounts.
Well used old suspension components coming out
Some new stuff going in and frame all cleaned up and repainted.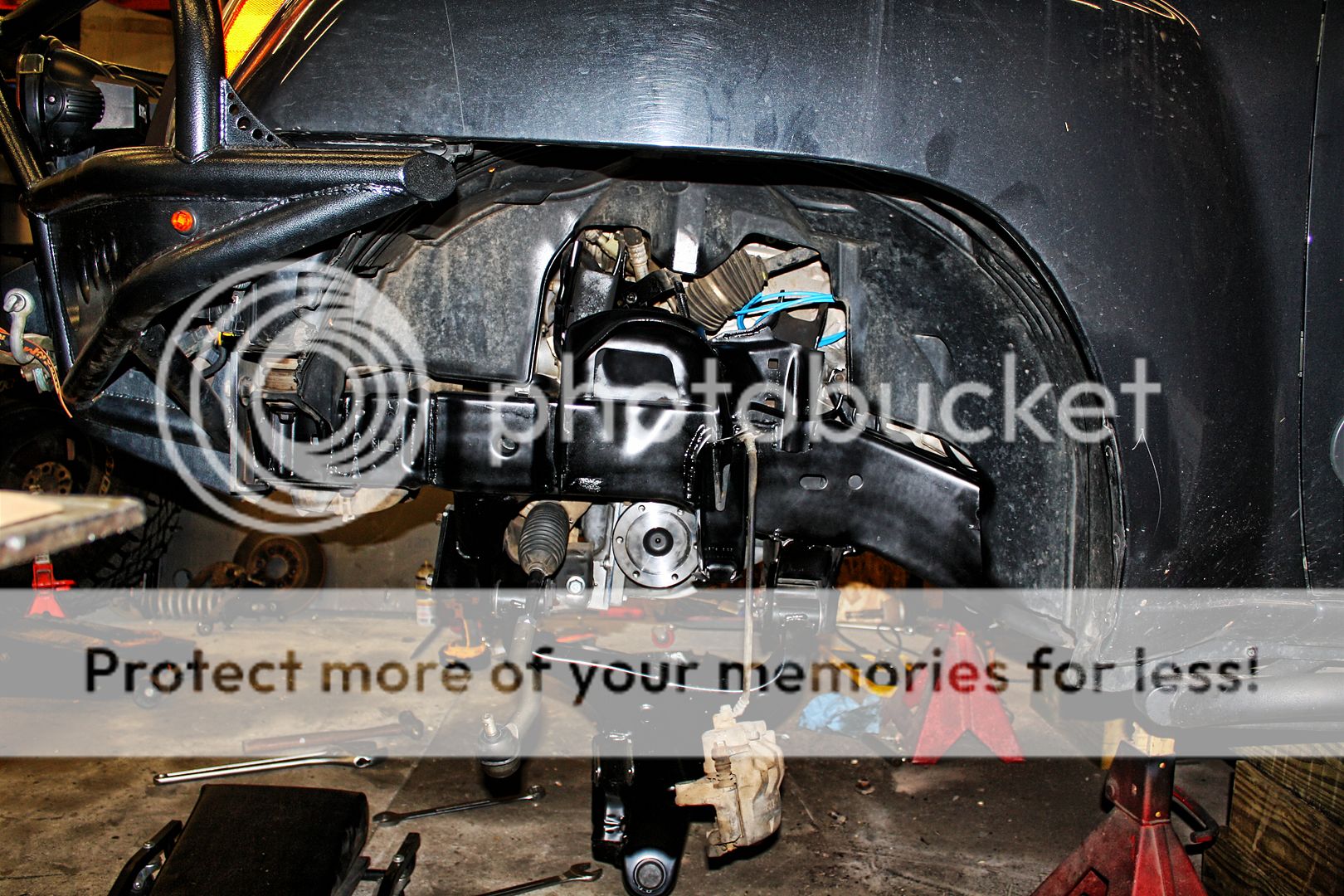 Added radflo hydraulic bumpstops to the front along with limiting straps to finish it all off.
Rear all put together and checking flex.
Last edited: