Advocate II
While many folks in St Louis were caught in a nasty ice storm last friday ( 16Dec) I left work early to head south to the MTNF. There are a ton of logging roads and trails that wind between creeks, rivers, and lakes. There are quite a few campgrounds, from free primitive to full service paid ones. I started from Potosi, MO heading west into the forest and took the first dirt road I came to. It turned into a really tight trail after a while. It turns out a couple trees had fallen across the far end, which is probably why that section looked so deserted. This is right near the downed trees. The trail all but disappeared under all the leaves.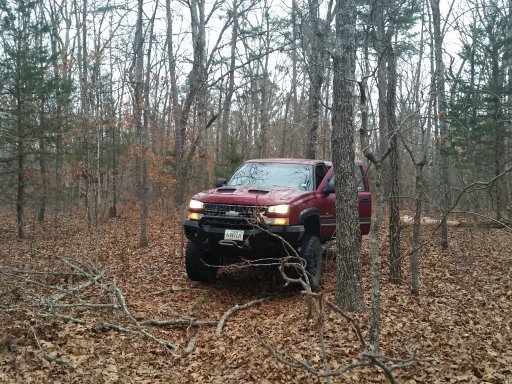 Luckily I was able to get around the trees and continue. Which led me to a random berm running through Parole lake (37.849090, -90.976785)
. No Clue. But a lot of ATV tracks in the area. I briefly checked out Hazel creek campground (no ammenities) and its pretty peaceful.
I was having a blast just cruising up and down the logging roads. I found a logger campsite (a clearing with a stone fire ring (37.808806, -91.014562)) that I want to go back to. By this time I noticed that my steering was acting up. Turns out a rock that I hit going down a gravel rd bent a tie rod. This cut my fun short and I started to head out. But the roads took their toll on the tie rod and it was no longer safe to drive. So I camped out on a little dirt road off state route P, until morning when i got a friend to assist me in getting a new tie rod. 20º didnt bug me, but I dont fit well in the back seat of my truck! I had my tent and whatnot with me, but where I pulled over wasnt a good camp spot. Another lesson learned, and adventure had. This is only my second time down here, and there is way more to see.