Not into ranks, titles or points.
Member

Advocate III
3,379
First Name

Road
Last Name

.
Member #

6589
MANUAL COFFEE GRINDER REVIEW
I'm becoming a low-budget coffee snob.
I used to buy morning coffee at local bakeries and bagel places whenever near one while traveling. They usually fresh-grind whole beans every day and often have different types of coffee available. The difference in taste over small town convenience store coffee can be remarkable.
While camping or away from town, I'd brew coffee with a scoop of pre-ground from bags bought in a grocery store. I made my coffee that way for years, even at home. Then I thought, well hell, I'll get whole beans and an inexpensive manual grinder for that bakery freshness. The only difference would be not chatting up the locals.
Whole beans stay fresh far longer than ground coffee, especially when making only one travel mug a day. Even the aroma from fresh-ground beans is richer, and it's an even bigger difference in taste if what you're used to in camp is instant coffee or coffee bags. Man, most mornings the smell of just-ground coffee beans as I'm grinding them starts waking me up before I even get a cup brewed.
I started using the
small manual grinder
on the left in the image below. There are dozens to choose from. Though most seem identical, they can vary widely in price.
It's a great little grinder, with seven adjustable settings from fine through coarse, and works really well for the effort.
I liked the manual grind enough I started poking around for a grinder that would pack easier and weigh less for overnights with my bike or canoe. I enjoy experimenting with bushcraft style camping and self-sufficiency, whether in the mountains or desert, and great coffee with breakfast cooked outside often starts off that kind of day just right.
I'm not a hard-core backpacker concerned about every fraction of an ounce, though am conscious of unnecessary weight and overall space used. I found these nifty little
two-piece stainless manual grinders
that seemed would fit the bill. I'm sure they've been around for ages; I just never looked.
Like the glass and plastic manual grinder, they have ceramic burrs (far better, it's said, than metal burrs for grinding because they don't heat up); have multiple settings in grind from coarse to fine, and take a little effort to grind enough for the day. It's become a welcome part of my morning routine.
There are a bunch of these little stainless guys to choose from, and like the glass bottomed grinder, many of them appear to be the same exact thing, perhaps even made in the same place and just private labeled.
...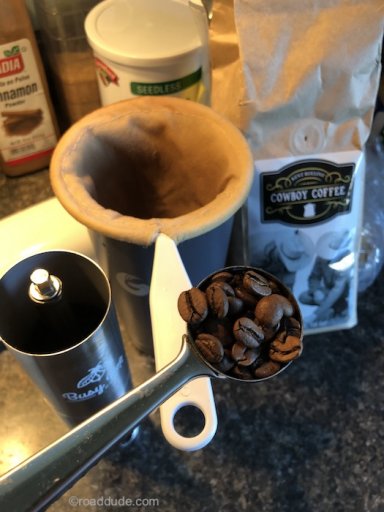 The
one I ended up
with was only 20.95 USD, though I see it's already been reduced a couple bucks. It came with a scoop that doubles as a clip for your bag of beans. The clip, though, is kind of gimmicky and seems more suitable as a way to not misplace the scoop than it is for effectively keeping a bag of beans well-sealed. I don't think I'll be packing the scoop/clip, not even for basecamp use.
There's one of these stainless grinders out there that looks identical to mine--though not branded, does not include the scoop/clip, and has a plastic knob instead of stainless on the crank--on amzn
right now for 9.99
USD. It pays to keep an eye on pricing and a variety of sites for the best deals on most products these days. They can fluctuate daily and will disappear at times, then sometimes return.
Here's the difference in size between the two small manual grinders I've been using. I like that the stainless bottom half of the new grinder has Tbsp markings and windows. Having a window on each side makes it easier to see through and gauge amount of grounds.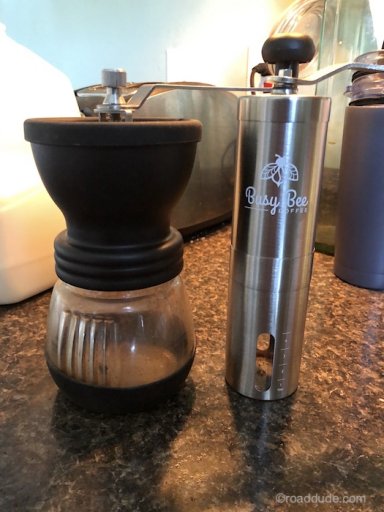 ...
I have a ziploc of whole beans--enough for four or five days, probably--stuffed in the bottom half in the image on right. That's my
Colador coffee sock
under the grinder halves, which helps complete my packable coffee kit. I wish the halves of the grinder would nest, so I could pack it even smaller.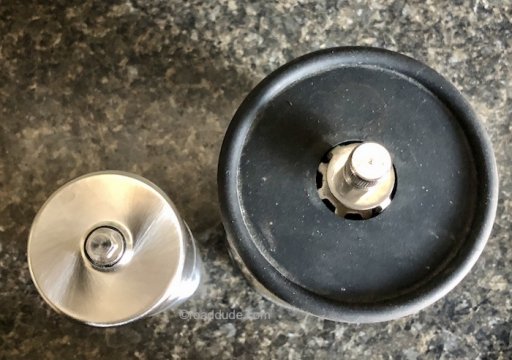 Overhead view, showing size difference.
..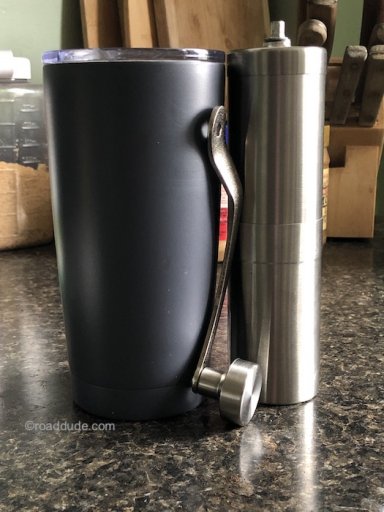 ...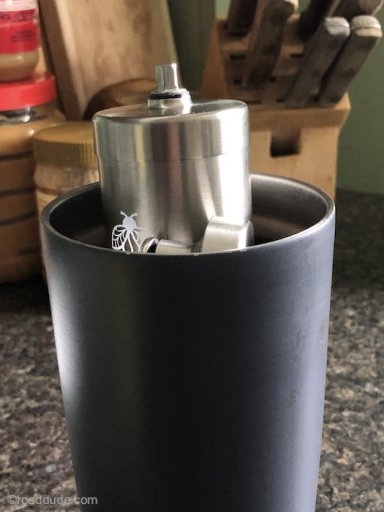 The stainless grinders are 7" tall, same as my travel mug, which is the only thing I've used for daily coffee in years. I even take it in places when ordering at a bakery and it helps reduce waste, too.
The grinder won't fit in the travel mug when halved and side by side, and sticks up a bit when in the travel mug whole. I'll have to experiment with how it fits in my Billy pots and bushcraft gear for more efficient canoe and bike trips.
I've been using this new little manual coffee grinder for a week or so now. I thought I'd be packing it in addition to the glass bottomed grinder; one for basecamp and van and one for canoe and bike trips, though can see it works so well I won't need the glass one at all.
All in all, I'm really happy with both, though the stainless one will be far more convenient when adventuring.
========
The travel mug is from
CoffeeGator
, who has a bunch of products for brewing and storing coffee. Their site has a great guide on
How To Drink Better Coffee
that includes helpful tips.
The bag of coffee seen in the images is from
Cowboy Kent Rollins
, whom I've linked to before in these forums. He has a
very engaging youtube channel
full of cooking tips, recipes, and cast iron care.
I have no affiliation with either outfit.
.
Last edited: