Traveler I
2,309
First Name

Shaun
Last Name

Hoffman
Member #

4799
This build starts a long long time ago with many dead ends , failures and even being sold once .
The eventual goal is to build a reliable very capable crawler/snow blaster with room for 4 and space for some gear .
Specs so far
Basicly a SAS 87 Toyota pu
5.29s v6 diffs
Arb front Detroit rear
Bobby longs
Hy steer
Trussed axles
Dual cases
Low lift with either 37s or 38s
73 cj5 tub
Small bed
Now this thing started life as a bone stock 73 cj5 purchased new by my father . I spent my childhood in this thing out in the woods , taking trips with my dad's jeep club it's what really sparked the fire and desire to be off the beaten path . Life often gets in the way and my parents got divorced when I was 6 or 7 and not long after that the jeep needed a transmission and ended up just sitting for a very long time .
We will fast forward to my dumber 19 year old dumber self who wanted to make a wheeler out of it . At to his point I was very into Toyota and had a extra set of axles sitting around so I figured " he'll it's gotta be stronger then the jeep axles so I swapped them in and gave it a ton of lift with the spring over .... and there it sat again for many years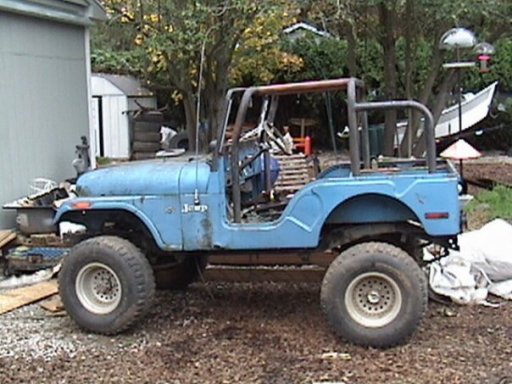 Fast forward again after a couple of re designs and motor swaps I was never happy with the Driveline angles/ motor placement and many other aspects of it , my li I decided to just sell it to a friend of a friend who thankfully never paid me for it so I took it back .and I decided it was time to actually take it off the back burner and get to doing it right
Last edited: