Influencer II
4,521
First Name

Raul
Last Name

Banuelos
Member #

2957
We were lucky enough to receive an invite from
Overlanding USA
for their next trip to film episode 4. At first I wasn't sure if I would be able to make it because the rig was still with
Mercenary Offroad
having the custom front bumper made but as luck would have it he finished the bumper a couple of days before we needed to leave. With only days to prep for the trip we went into full prep mode going through all our gear to make sure we had everything. On this trip my lovely wife would be joining us for her first overland trip without any kids! Anyone with young kids will know how awesome and rare this is haha. I was excited to show her the overland lifestyle.
Our original plan was to leave on Friday evening after work and meet up with the Overlanding USA crew just outside of Joshua Tree but with the concert at Coachella that same day we decided to just leave early sat morning and avoid the possible 5hour drive in traffic. With the truck packed and ready to go we enjoyed another night of sleep in our own bed and set the alarm for 0500.
0500 came very quickly and we headed out to the rig to wait for Danny from Xterra performance who would be caravanning with us. The best part about waking up so early is watching the sun rise as it crests over the hill.
We made excellent time and before we knew it we were at the coordinates for Friday night's camp site.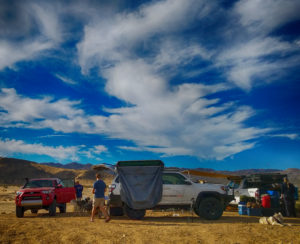 After some brief introductions, we headed out to Joshua Tree to find our first adventure. This was our first time visiting Joshua Tree but it will definitely not be our last. Austin (our lead navigator for this trip) decided to forgo his original choice to hike up Ryan Mountain because of the difficulty rating with kids and decided to take us to Baker Dam instead. The hike through baker dam is very easy and will lead you to the first POI which is the actual dam. It's been many years since the dam actually held water but it was originally built by cowboys to water their cattle in the early 1900s. Continuing on this loop trail will lead to a small cavern with some pictographs right before the split back to the parking lot.
After some much needed lunch we packed up our rigs and headed out of Joshua Tree in route to the trail we would be taking up to Big Bear. Once at the trailhead everyone aired down and did a last minute once over on their rigs before heading up the mountain.
For the most part I would rate this trail a beginner trail that anyone in a stock 4wd can do. There are a couple of sections that could get tight in some fullsize rigs but overall not difficult. This trail took us from around Joshua Tree to Big Bear in about 20 miles. Once on pavement we made one final bathroom stop before heading up to the second trail that would lead us to the super secret camping spot.
We arrived to the secret camping spot code named "The Chimney" with just enough light left in the day to set up camp. The sunset was amazing and made for a perfect end to our day.
With the sun almost completely down everyone got into warmer clothes and started dinner. After some light conversations around our lantern camp fire(camp fires still restricted in SoCal) we headed off to bed. Now we were expecting mid to low 30's but it ended up getting in the teens sometime in the night. I had prepared for this by bringing my portable heater but since my truck was not sitting perfectly level the heater would not allow me to light it because of the anti tip safety feature built into it. I don't mind the cold too much but my wife hates the cold. It was by far the coldest night she has ever had.
We were both very excited when we started to see the sun hit the tent warming up the air enough so that we couldn't see our breath anymore. We laid there for about an hour warming up and trying to get the courage to get ourselves up and get dressed. By 0700 I was up and making some coffee to warm myself up. From everyone's expression I could tell that we weren't the only ones that were cold all night. After breakfast, everyone started to pack up and get ready for the final trail that would take us back to the road. This smaller trail was more challenging than the previous day's trail even though it was smaller. we had some steep loose hills to climb and one very rocky decent that required a spotter. With the help of my buddy Danny I was able to get the Overland F150 down with ease with only one scrape on my passenger side lower arm. After everyone was down safely we continued down the rest of the trail which was mostly a dirt road. 20 min later and we were back on pavement airing up our tires and conversing about the great trip we had just had.
Everyone else was heading back into town to hangout for lunch but my wife and I had to get home to our kids. We said our goodbyes, shook hands and took some final pictures before we departed from the rest of the group. The whole way down the mountain we just kept reliving the awesome views and places we had visited and wondered when we would be able to go again. In the end we traveled (blank) miles and created lasting memories that my wife and I will always remember.
Big thanks to the Overlanding USA crew for the invite and for helping make my wife's first Overland experience a good one. Until next time…….