Enthusiast III
473
First Name

Bryce
Last Name

Campbell
brycercampbell.com: Jackery Solar Generator 1500: The Best Solution for Powering Camp?
If you're anything like me, you like to disconnect. Whether a long weekend, or years driving cross-country, everyone has their preferred methods. Something that everyone has in common, though, is the need to power their lifestyle. Whether you simply need to charge your phone, or run a fridge and electric heater, the Jackery Solar Generator 1500 is something to consider.
Although Jackery did send me this unit to review, I have used their products in the past and their only request was that I share my thoughts on the unit and share details on their 9th anniversary promotion.
For Jackery's 9th anniversary, they're giving away $17,000 worth of product. Along with that, their entire site will be 15% off from Oct. 18 - Oct. 20. You can find all the info here:
Jackery's 9th Anniversary
As for my review,
I've spent the last few months with the Explorer 1500 in the passenger footwell, while the 4 100W SolarSaga panels have become ubiquitous with setting up my tent. Here are my genuine thoughts.
Firstly, what exactly is does the Solar Generator consist of?
There are two parts. The Explorer 1500, which is a 1534Wh lithium-ion battery capable of 1800W and up to 3600W surges. If you purchase the Solar Generator combo, which is what I've been using, you also get 4 SolarSaga 100W solar panels. These panels are literally plug and play, which leads right into the main selling point and benefit of this setup…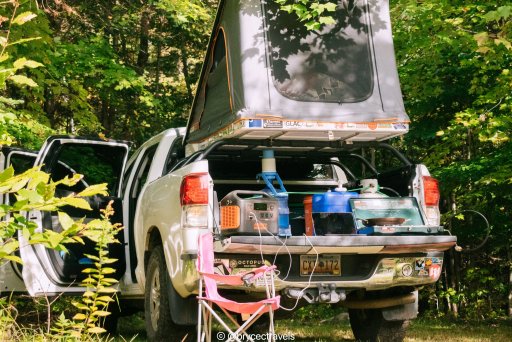 The convenience is unmatched. From the moment you open the box, to the moment you start plugging devices in,
there's genuinely zero thought required. I have friends who range from having done DIY solar setups on their Sprinters with tiled showers and full kitchens, to others with a single 160W panel taped to their RTT, and I can confidently say that the Jackery is as simple as it gets. Do you lose a bit of customization in exchange for easy of use? Absolutely. Is it worth dodging the electrical headache? In my opinion, yes, but you have to decide that for yourself. You take the 4 panels, plug them into 2 connectors, and then boom, you have 400W of solar and 1500Wh of battery.
As for build quality, there's not much to complain about.
The Explorer 1500 is around 30lbs, and I've had zero problems with durability. There is a screen on the front that gives you charge percentage, as well as incoming and outgoing power usage. The screen is easily readable at a glance and very convenient, and another benefit of the screen is that it shows you the expected time to fully charge, as well as the expected life of the current charge depending on usage. Being as it spends a decent amount of time in my footwell, I've had probably over 100lbs sitting on it at multiple points and it's held up. I have no doubt it will last for many years. Although it does have some heft, it has a very convenient handle which makes moving it from the front to the back of the cab, or even picking it up while climbing into the tent quite easy, and I don't even use a ladder.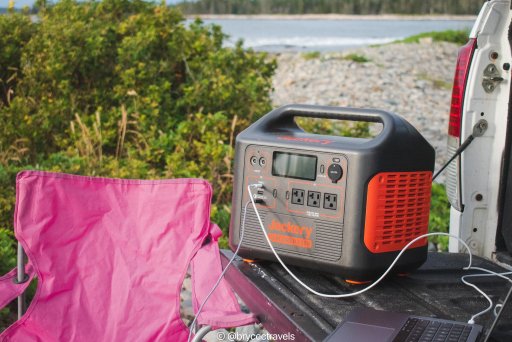 I don't have any complaints about the build quality of the SolarSaga panels yet either.
They have easy to use grab handles and are pretty light, so moving them around is zero problem. The only thing I could see being a problem is that the panels are flexible and made out of a canvas or fabric. The obvious downside to that is that it could tear or bend over time (if you put weight on them, especially in storage), but the big upside, and why I assume they build them as such, is that they can be folded in half to store much more easily than a rigid panel, and can be pointed wherever the sunshine is landing. All in all, I don't see it as a downside, more of a compromise — the benefits are obvious. I would not go walking around throwing rocks at the solar panels, but I would be cautious to prolong their life.
I mentioned the different ways to charge the Explorer 1500.
Jackery claims the 4 100W SolarSaga panels can charge the unit in 4 hours, and I've found that to be pretty accurate, obviously depending on the weather. But if weather does become an issue, a cigarette outlet can fully charge the unit in 13 hours, and a wall outlet in 6 hours.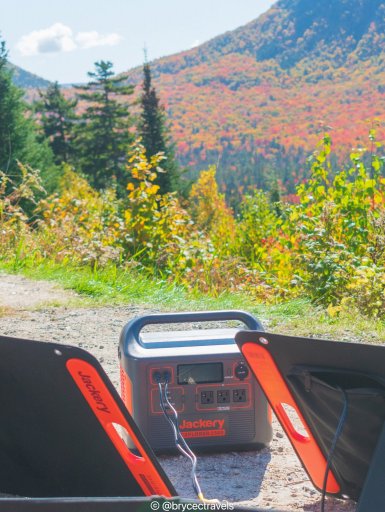 Obviously a big question with a setup like this is how long will the charge actually last.
I can not say for you, only from my experience. For you to know how long you can go without charging the unit, you have to research your power requirements and do the math. For me, without a small cooler/fridge/freezer, 3 weeks seems very realistic. I did try my full size house fridge and I could easily power that for 7.5-8 hours, and being based in the very hurricane prone Charleston, South Carolina, the Jackery now serves a bigger purpose than simply powering my truck on multi-month road trips.
Something else that's been bugging me
is what I saw when I was at the Walmart in Ellsworth, Maine, which is the closest Walmart to Acadia National Park. Near Acadia, there is basically nothing in the way of free camping, so the parking lot gets absolutely slammed every night. I had the true campground experience. Not only was the drone of generators driving me insane, there was also the smell of gas and diesel. I'm always surprised by how many people are continuing to use traditional generators when there are easier, cleaner, quieter solutions like the Jackery. In the overlanding world, no one uses generators. In the travel trailer/RV world, I think we're quickly coming upon the days where instead of starting a generator, you simply hit a button and plug a device in.
Back to the main point,
the Jackery Solar Generator has made life on the road much more convenient. Not only that, it has made my life at home during hurricane season and any inclement weather much less worrisome as well.
As for downsides,
the only real downside is the price of a ready to use unit versus a DIY solar setup. I think most people know the direction they want to go from the beginning. You either buy all of the components for your system and wire them yourself, or spend a bit more and get something that is ready to go when it arrives on your doorstep. I can't tell you which is better for you, but I can tell you what is better for me, and I have seen both sides of this coin in many different instances.
I'm taking the Jackery, and I don't see it leaving my footwell anytime soon.
Of course, if you have any experiences with any Jackery products (or any of the solar generators), please share them as well. How you do solar is one of the largest decisions someone will make for their rig, so it's best to give them as much info as possible.