Off-Road Ranger I
3,346
First Name

Kris
Last Name

Duncan
Member #

0787
Ham Callsign

VK4FABX
The following list has been compiled to provide a brief description of some equipment used for 4wd recoverys
1.1 Winches
(a) PTO Winch. (Power Take Off) - powered by the vehicle's engine through its gear box with the PTO manually engaged and the transfer case in neutral. Winch drum speed can be varied by the appropriate
gear selection and engine acceleration. The vehicle's engine must be able to run.
(b) Electric Winch- normally powered from the vehicle's DC battery supply. Its motor is controlled by forward and reverse solenoids that are operated by a remote hand piece. These winches have a single
winch drum speed whether in forward or reverse.
(c) Portable Hand Winch (Tirfor style) - a versatile and portable, hand operated winch that works on a 'rope feed through a walking lock'principle. Their load rating varies from about 800kg up to 3200kg depending on the model and manufacturers specifications.
(d) Hydraulic Winch– usually powered by the vehicle's power steering hydraulic pump. It will pull a constant load at varying speeds and is operated by manually opening and closing fluid control valves. The vehicle's engine must be able to run.
1.2 Shear Pin
A small, sacrificial part usually made of bronze or brass and approximately 30- 40 mm long and 4 mm in diameter. They are most commonly incorporated in both PTO and Tirfor winches. These shear pins avoid equipment overloading by shearing if the rated capacity of the winch is exceeded therefore separating the driving motor from the loaded cable drum. Never use nails or similar items as replacements or an alternative as this can result in mechanical failure or rope breakage as a possible likelihood.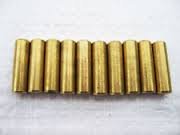 1.3 Snatch Block (Pulley)
A heavy duty pulley that can be used to either redirect the line of haul or increase the winching capacity by adding a mechanical advantage to any winching exercise. This could be essential in heavy or long recoveries to reduce the load on the winch itself.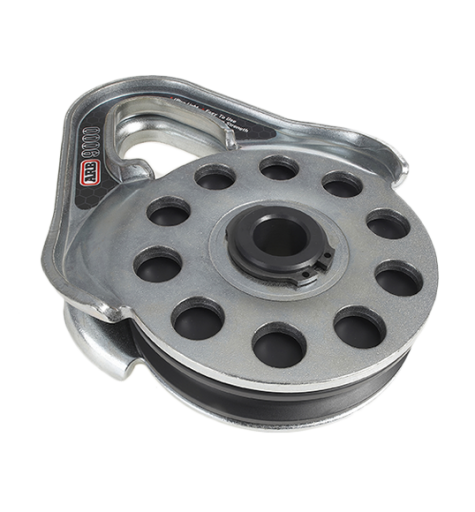 1.4 Strop
A length of rope that is finished with a loop at each end as attachment points which can be used to assist in a recovery situation. Usually constructed of steel wire but becoming more common as nylon or Kevlar cored rubber sheathed rope with steel thimbles in each end. These are especially useful for anchoring the winch rope to an abrasive anchor point. Strops can also be used for direct towing or lengthening a winch rope. If no web sling is available,a strop can be used as a tree trunk protector by looping the strop around a tree and placing sticks vertical (or other padding) between the strop and the outside of the tree.These are available in a variety of lengths with the most common of the rated minimum breaking strengths ranging between 8000 and 12000kg.
1.5 Winch Extension Strap
Most commercially available extension straps are manufactured from 55 to 80mm polyester non stretch webbing. Extremely useful when the most suitable anchor point is out of reach of your fully extended winch rope. They are lighter and easier to store than conventional steel wire rope or strops with minimum breaking strength of between 4500kg and 8000kg depending on the width of the strap.
1.6 Tree Trunk Protector
These are similar to a strop, but made from a wide cloth or nylon webbing with stitched loops at each end with a minimum breaking strength of 12000kg. These should always be used when the winch anchor point is a live tree in order to avert ring barking it with the wire rope. They are also referred to as a 'tree saver'. This device will reduce the environmental impact from 4WD activities.
1.7 Snatch Strap/ Kinetic energy strap
Specifically designed to stretch under load for maximum performance, a snatch strap is a very effective method of extracting a bogged or immobilised 4WD when a second vehicle is able to assist. The kinetic energy generated by the elasticity of the snatch strap aids with the recovery itself, while at the same
time reducing the likelihood of vehicle damage.These are constructed from wide nylon webbing with reinforced stitched loops at each end with a minimum breaking strength of between 8000kg and 12000kg usually and have the ability to stretch by approximately 20% and are particularly efficient for extricating lightly bogged vehicles from loose surfaces such as sand or powdery snow.
1.8 Bow Shackle
The Bow Shackle has a larger inner working radius than a 'D' Shackle, offering more space for a strap or rope eye and the added ability to achieve greater angles when recovering in difficult situations. This is a fully enclosed fastening device used in preference to open-faced hooks for increased safety. They are opened and closed by means of a threaded pin. At least two or three of these are an essential part of recovery equipment. When fastening the pin to the shackle turn till it firms up then wind back about a quarter of a turn so that the pin can be undone after use.These shackles must be individually tested and stamped with the working load limit for safety and conform to relevant standards . Common sizes are 4.7 tonne and 3.2 tonne.
1.9 'D' Shackle
This is a fully enclosed 'D' shaped fastening device that can be used in the same manner as the bow shackle but with a reduced capacity to fit sling loops within the 'D' due to their shape.