Contributor II
271
First Name

Joel
Last Name

Kilby
Member #

20682
I picked up a 99 Suburban a couple weeks ago from the original owner, threw some 150k maintenance at it, and loaded the squad into it for a jaunt out to Nevada. We used the big roads until they ran out in western Utah. Then we used the Loneliest Road in America (Hwy 50/6) to get to some BLM land on the border of the national park where we crashed with some homies for a couple nights. The Lehman Cave tour out there is totally worth doing, even though I don't have pics of it.
Turns out there may have been a little more deferred maintenance on that Burb because about an hour from home the CVs started letting me know they were about over it. She got us back to our house, but there's always an added level of stress... i mean ADVENTURE, when you're driving a new-to-you rig that far.
Here are a couple photos....
Sunrise from camp on Saturday. Graffiti from the kids Friday night.
The truck wanted to look at the NP too, so I pointed her the other direction. About 20 feet on the other side of the road up there, is the NP border. The road follows it for a bit, and then turns into the park further along that spur. This is all near Snake Creek Road.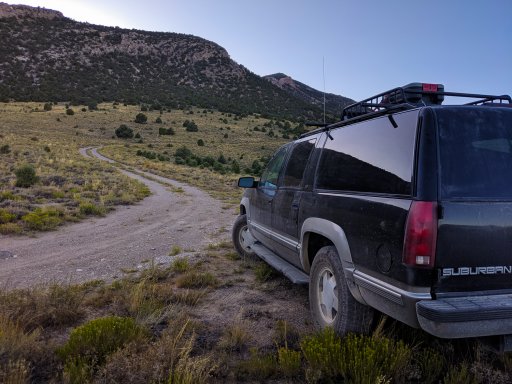 Here's a view of Lake Teresa from out of the main Wheeler Pass trailhead area.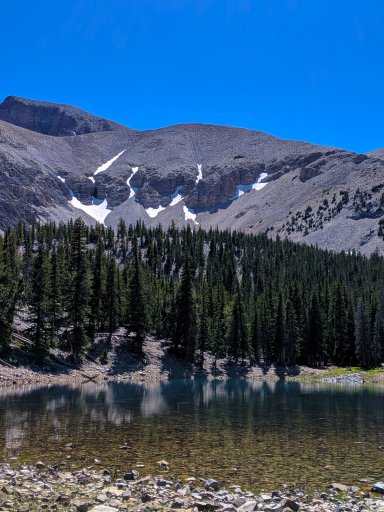 Here's a neat little creek you cross getting up to the alpine lakes.
And a final shot of our camp spot. NP behind me; Great Basin out there in the sun. Picture it a million years ago... It's an ocean... Head-high, Jurassic peelers... a lineup of Velociraptors on old skool twin fins getting pitted... So pitted... But today it's all rocks, coyotes, and great basin rattlesnakes.
Now I gotta go work on those CVs. Glad we were able to get 'er home safe and sound... ing like a janky shopping cart.