Enthusiast I
1,251
First Name

James
Last Name

Madison
Member #

18747
Back in the day, I played with 12 volt solar. I first put together an emergency kit and basic base camp kit to run lights, shortwave radio, and charge my phone. When you look at the flip phone you can tell this was 10+ years ago, USB was not prevelant, and parts were mainly sourced from Australia outback off grid and sailboat suppliers. I was camping a lot then for hunting and fishing outings, and decided to make a larger base camp kit with an inverter, which also became my emergency kit. I did the whole ball of wax, including a spreadsheet to reconcile battery sizing, loads, and photocell wattage. I ended up sizing the batteries for a base camp with a small fridge, lights, and ability to charge a few devices. Basic capability is 54 amp hours, 12Vdc, 6Vdc, 100 Watt AC inverter, capable of 145 watts solar input.
One night years later when the power went, out I grabbed the power station, plugged in my laptop, flatscreen, cable modem, and desk light and had a nice evening playing online and listening to the TV while all the neighbors brought out their candles. Well with current events in California, I highly recommend such a system that can be detached from your vehicle and also run your refrigerator. I did end up getting a NORCOLD 64 qt fridge used for the day power goes out for longer than a day. When I made my power stations, there were few commercial alternatives that were not crazy expensive. These days, Wagan and others make very capable units for a fair price. Due to the recent events in Cali, I dusted it off and have the batteries charging at the ready.
Emergency Kit 8ah, 12v and 6v (for shortwave), built in old battery charger case. Note phone and non-led light! It was a while ago!!!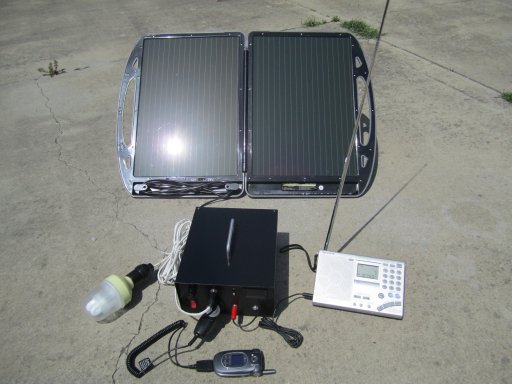 Base camp kit, 3 18ah batteries, 12vdc, 6vdc, and 100 watt VAC inverter (built in hardware store tool box)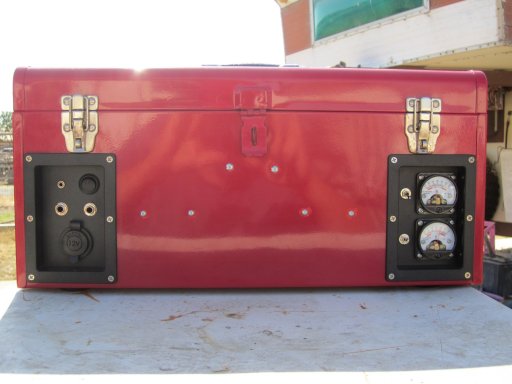 What I never finished is a second charge source. I have the charge controller and windmill controller, but never bought the windmill. These days, I think I will get one of those water turbine units you can place in a creek for the second power source.
If you buy one or build one, I believe it is a good investment to have the power station mobile so you can use it in your vehicle, base camp, or home.