Member III
3,034
First Name

Dana
Last Name

Ramos
Member #

3498
Ham Callsign

KJ7EXK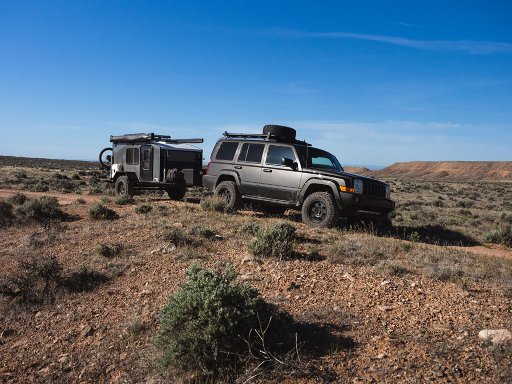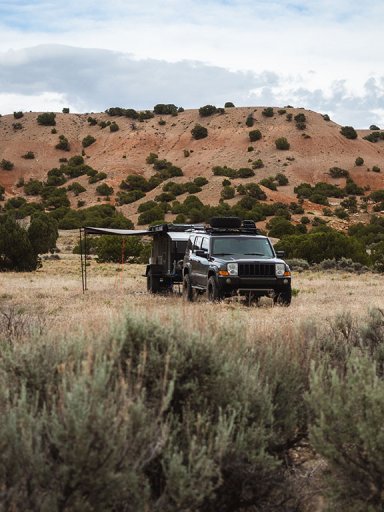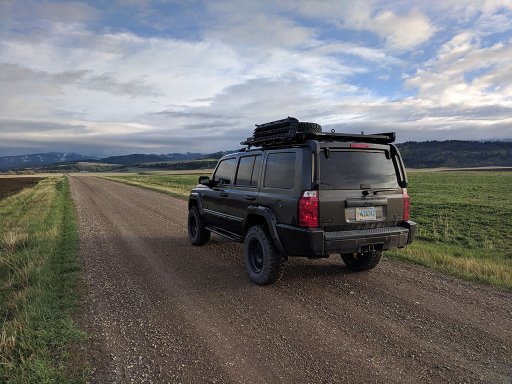 '06 Limited, 5.7l HEMI, QDII 4x4, Limited w/factory towing package (wired for Tekonsha brake controller), dark khaki exterior, beige/grey leather interior, 7 passenger/3 row seating, front sunroof + 2 rear moonroofs (none of which have ever leaked!), heated front seats, dual zone and 3rd row climate control, auto lights and wipers(~142k miles on odometer).
New '10 model crate Hemi, water pump, belts, etc, rebuilt transmission w/new solenoid pack, Magnaflow exhaust (@90k). Oil changed w/full synthetic every 5k.
OME HD lift, JBA upper control arms, Moog coil spring isolators, strut mounts (@125k), stiffer OME n220 rear shocks, Rough Country 3/4" rear coil spring spacers (@135k) + spare N190 rear shocks and original stock height coils for HEMI model.
5 KMC XD 17x8/4.5" backspace/0mm offset wheels, 5 LT265/70R17 Goodyear Duratracs tires + 5 factory chrome wheels (@125k).
Mopar throttle body, exhaust manifold gaskets/bolts, Champion spark plugs, transmission fluid/filter/pan, differential/transfer case fluids, Mopar transfer case shift motor, Mopar EGR valve/crank position sensor, front drive shaft CV joint, rear pinion seal, (@125-135k).
Moog lower control arms, Mopar front sway bar bushings, Moog front and rear sway bar end links, Moog upper ball joints, Mopar CV axles, front differential mount + 2 spare Moog outer tie rod ends, 2 spare Moog lower ball joints, 1 spare Moog upper ball joint (@135-140k).
Brand new (not remanufactured) Mopar rack and pinion w/inner and outer tie rods, steering pump, high pressure steering line, hydraulic cooling fan, hydraulic fluid flush and fill, cooling fluid flush and fill (@141k).
There's hardly anything that hasn't been replaced!
Airaid intake tube, K&N filter + spare airbox to cut up (Airflow snorkel ready!).
Flashpaq Superchips tuner.
Aftermarket alarm and remote start.
New Optima yellow top battery (6 months).
All interior lights, low and high headlights, fog lights, tag lights and reverse lights have been replaced w/bright AF LEDs (you won't even need light bars!) (6 months).
All 3 Mopar steel skid plates, Steel Armadillo rock sliders professionally primed and powder coated (6 months - nothing is even scuffed yet!).
Rhino Rack Pioneer roof rack w/spare tire holder.
Full set of Weathertech floor mats including 1st, 2nd, 3rd rows and cargo.
A pile of receipts in order by date.
Truck and all systems are in perfect working order. I've been OCD about maintenance on this thing. The Jeep does has a few cosmetic scuffs and scratches in the paint from tree branches, most of which can be buffed out or touched up easily, no dents though. The outer edge of the driver's seat is cracking but not torn. I think that's a standard feature though. Otherwise, the rest of the interior looks great.
Photos here:
https://photos.app.goo.gl/iLf9AmVzd8s95wrH9
, I can provide more as needed. Please message me if you have any questions.
Located on the Idaho-Wyoming border. Asking $9500
Thanks,
Dana
Last edited: