Pathfinder I
How it currently sits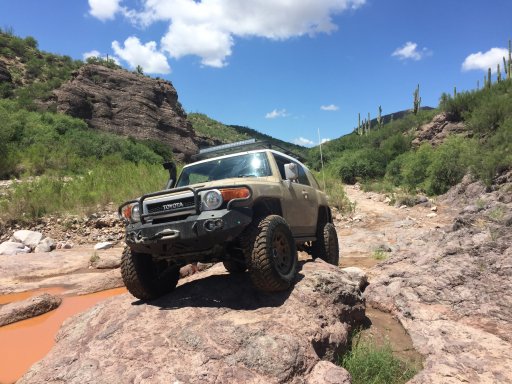 Back in 2014, the wife and I were looking for an offroad/exploring/camping vehicle. Our goal was to find a gently used FJ, 4Runner, or JKU. We were living near Fairbanks AK at the time when we pulled into a used car lot and laid our eyes on a 2012 FJ Cruiser that appeared to be heavily modified sporting an almost unbelievable price tag and an odometer with only 3000 miles on the clock. My wife excitedly exclaimed, "I vote you want that one!" I guess she thought if I bought something already tricked out I wouldn't want to spend anymore money on it...ha! I made 4 more trips back to the used car lot with a notepad in hand, taking inventory of all the aftermarket parts that had been added before finally signing the papers and bringing our new rig home.
Here is how our FJ looked the day we brought it home
Here is breakdown of what we brought home:
2012 FJ Cruiser
All Pro Long Travel Suspension
Walker Evans 2.5 Coilovers w/remote reservoirs
Walker Evans 2.0 shocks
ProComp series 31 wheels
Super Swamper IROK tires 315/70r17
4:56 Gearing (assumption made using a gearing calculator)
ARB CKMA12 Air Compressor
ARB Front Air Locker
Safari Snorkel
Fab Four Front bumper
Fab Four Rear bumper
Warn 9.5 xp-s winch
Bushwacker Fender Flares
Anzo Projector Headlights (total junk)
IPCW LED Tail Lights
Of course this created a little moral dilemma in the area of "built vs bought." But when the used car lot was only asking book for this rig, I couldn't resist.
Right away a change needed to be made. The Irok tires looked pretty sweet on there but they were not exactly winter friendly. I was also a few months away from a 20,000 mile road trip and decided I needed to find some more appropriate shoes. So I sold the Iroks and threw on some Toyo ATs in 285/70r17.
The Toyo's didn't look as cool but I got 40,000 faithful miles out these spanning from Fairbanks AK, to Corpus Christi TX, and just about everywhere in between.
June of 2014 I started my retraining in the Air National Guard and thus began what would become a 20,000 miles road trip. The first leg was from Fairbanks to San Antonio with a quick stop at Low Range Off-Road in Orem Utah where a Warrior Products roof rack and ARB Simpson III RTT was added. The second leg of my trip took me from San Antonio TX, to Spokane WA. Along the way we took some time to explore Prescott, Sedona, and Flagstaff AZ as well as Grand Staircase-Escalante, and Capitol Reef UT.
Camp above Prescott
Sedona
Grand Staircase-Escalante Smokey Mountain Rd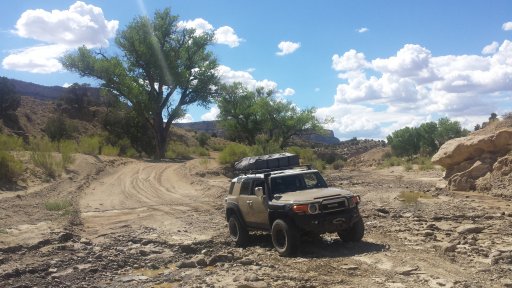 Capitol Reef Cathedral Valley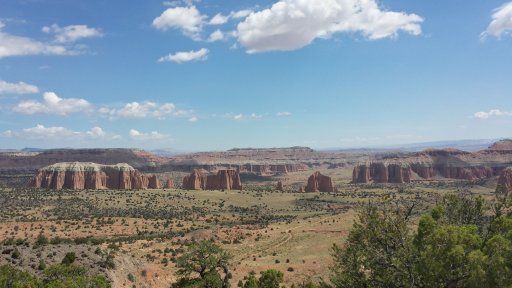 Third leg of my trip took me from Spokane to Altus OK making a quick stop at the top of Pikes Peak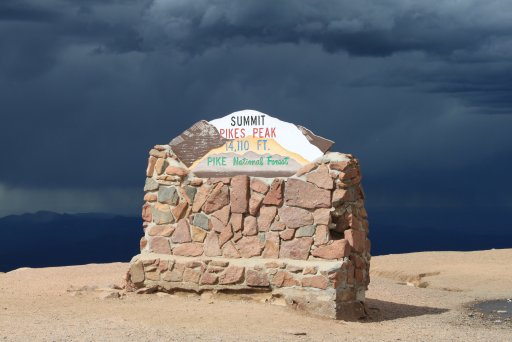 In Oklahoma I added a Pro Comp Explorer DR36 Light Bar and a Cobra 29LX CB radio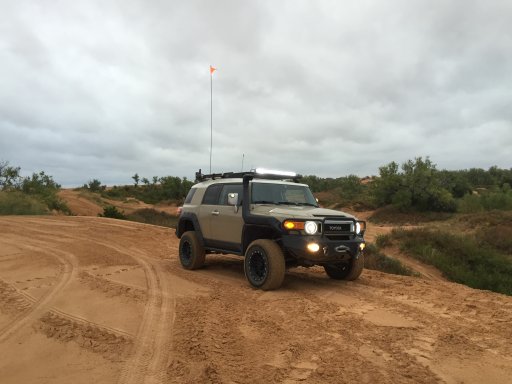 The last leg of my trip took me back home to Fairbanks AK.
Along the way a few items caused some issues. First, the cool looking Anzo headlights were not very bright at all and at one point the wiring to one of the bulbs caught fire. So out they went and some stock looking headlights ordered from Low Range Off-Road went in. Not as cool looking, but brighter and safer.
Second issue, the long travel suspension made my front track width 4" wider then the rear. Wasn't an issue until I hooked up trailer and drugged it across Canada in the winter. Having three different axle/track widths traveling across the rough and uneven roads of the ALCAN in the winter, made for some quirky handling and some white knuckle driving. I put on some 1.25" spidertrax wheel spacers on the rear and so far have been very pleased with the results. Third, I replaced the rear Walker Evans shocks with some Fox 2.0 shocks.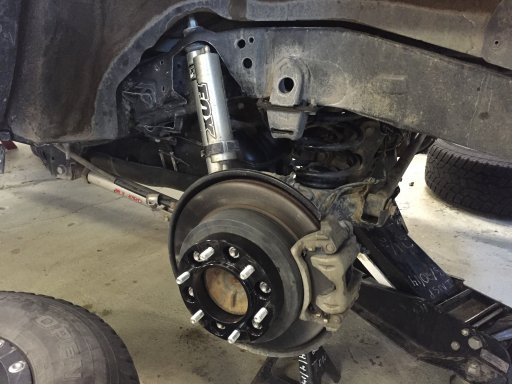 With a new kid on the way we needed more room inside the FJ for a car seat, a German Shepherd, and all our camping gear. Selling the FJ was out of the question so thanks to Craigslist, we picked up an M101a2, and now we have room for a growing family.
In 2016, our stay in Alaska was coming to a close. October of 2016 we found ourselves settling into Phoenix AZ...what a change! My Toyo's had served us well and it was time for a change. The FJ had become less of a daily driver and I wanted a more aggressive look, so on went some General Grabber X3s in 315/70r17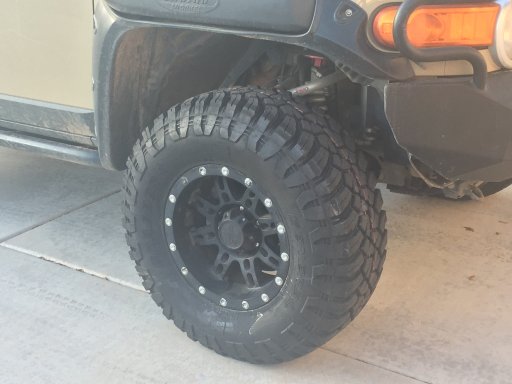 Much Gooder
There were some clearance issues with the rear fenders when flexed out. The slightly(hahaha)larger tires did a good job of chewing up the rear fender flares.
So off came the Bushwackers and a little hammer therapy was applied to the inside of the wheel well. Sorry, no pics of that!
2017 brought on the big repairs. First to fail was the steering rack. Make sure you take the time to inspect the boots around your tie-rods. This was a costly mistake on my part.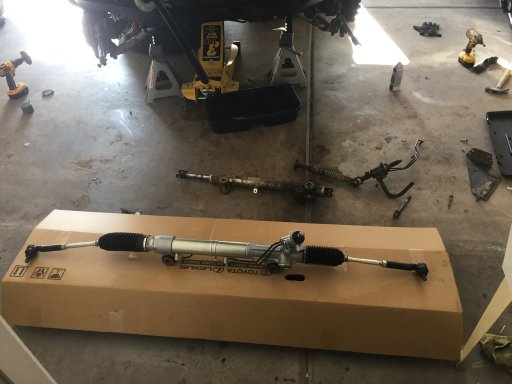 Shortly after this repair, a bolt through a lower control arm uni-ball failed. Boss, gonna be late for work today.
Saw this as an opportunity to completely freshen up the front suspension so the FJ went into Hanger Queen Status as I spent a couple months and a butt load of money on the rebuild.
Replaced bushings, uni-balls, wheel bearings, hubs, tie-rods, and hardware. I also had the a-arms powder coated.
I never really liked the Pro Comp wheels so my wife gave me permission to replace them. Happy Birthday to me! Method Roost wheels in bronze.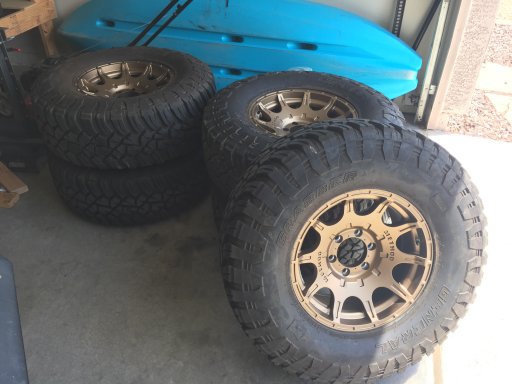 All the accessories had been wired straight to the battery and it bugged me something fierce. I know nothing about wiring and electrical stuff, so a 1 day project was finished 3 days later. A Blue Sea fuse box was added and all the relays were co-located. A couple extra relays were added for future accessories.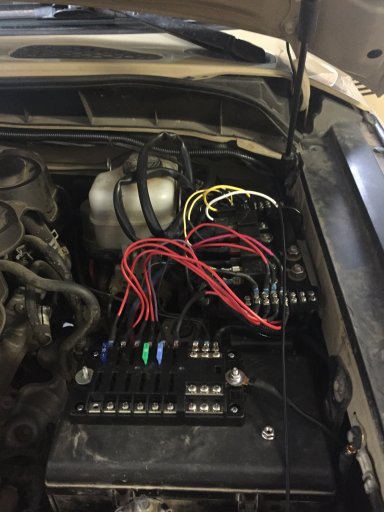 Picked up 4 KC Cyclone lights and decided to have a little fun. Hello rock lights!
I've now got about 50,000 miles on my rig and have no plans to replace it. With all that we've been through, I feel that my FJ is now more built vs bought. I've put a lot of blood, sweat, and tears fixing it along the way. The paint is covered in Alaska/Arizona pin stripping and my FJ is never confused with a Mall Crawler. I hope to add many more pictures and stories in the future.