Contributor III
184
First Name

Adam
Last Name

Koczarski
Ham Callsign

K7ARK
I just built one similar to the one in the first post of this thread. I had a roof eave to deal with and used it for lateral support of the post.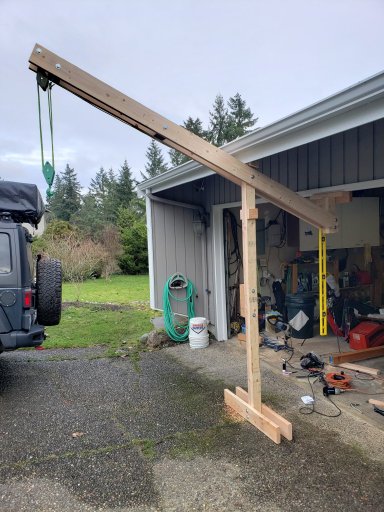 I clipped the top of the post to the tail of a roof truss to prevent it from moving side to side but it <could> move toward the driveway. There's a space between the post and the facia board to prevent the possibility of it push out on it.
The back span is bolted to the header of the door opening to prevent any rotation around the axis of the post.
Two double sheave pulleys, a trailer winch and some rope from amazon reduce the line tension 50 lbs for my 200 lbs tent.
Thanks to the OP for the idea. I used my structural engineering degree to make sure the member sizes were adequate. 200 lbs tent so there is 200 lbs compression in the post. The back span is 3' and the boom is 6' so there will be 400 lbs of upward force on the door header. I dangled my 202 lbs frame on the end of the boom to load test it. :) Not even a creak from the framing of my house.