Influencer II
So as the title states, I am looking at building a platform for the cargo/trunk space in my WJ. I need the rear seats for kiddos and dogs, and I'll also need access to the spare wheel bay as I am keeping my spare in there (for now).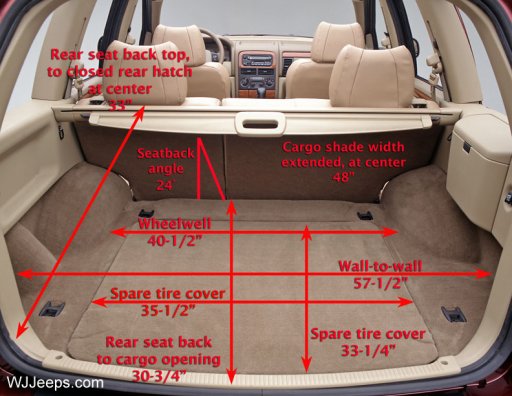 I borrowed this picture from wjjeeps.com, so who knows how accurate the dimensions are, but this give you an idea of the space and layout I'm working with. I want to make it to where the dogs can stay on the platform if needed, or store gear on top, as well as under it. I think some 1/2'-3/4' plywood for the top and 1x (however wide needed) for the upright supports etc. I am thinking of having a one piece top from wall to wall, with a hinged door to access the spare wheel if needed. I am considering tying in the platform to the factory floor tie downs (however that will work, I'm unsure just yet) so it won't budge on the trail, but still be able to remove it if needed. This will maybe sit 12" off of the floor to accommodate getting gear and the spare in and out. I have also thrown around the idea of having hinged "wings" to be able to easily access the smaller spaces on either side of the spare wheel bay.
Now that you can see what I'm working with and have a brief idea of what I'm wanting to do, has anyone done something similar? If so, would you be willing to assist me with my design? Does anyone have any input on creating this? No CAD or anything to design on. Maybe MS Paint
or just hand drawn and then cardboard cutouts. Thanks in advance!