Contributor II
1,158
First Name

John
Last Name

Ganahl
Member #

22636
Ham Callsign

KA7USA
Topper/Cap SOLD April 23,2020 - Sleeping Platform and Bedrug reposted in separate posts.



OKLAHOMA

- Midwest City, Oklahoma (South East suburb of Oklahoma City)

Selling complete Tacoma bed camping outfit together or separate.

Shipping: Not willing to ship large items. Am willing to travel up to a day's journey for a meet-in-the-middle for serious buyer.

Shipping: Truck cap: no; Bed camping outfit: no; Bedrug: willing to ship/will look into it if needed, would rather sell locally/nearby.

may also be viewed on CL:
ARE DCU (Deluxe Commercial Unit), height 29"-36" Wedge roof truck bed cap/shell/topper. Purchased...
oklahomacity.craigslist.org
Truck bed camper build bed/cabinets/drawers - auto parts - by owner...
Bed Rug 3rd gen Tacoma - auto parts - by owner - vehicle automotive...
ARE DCU Wedge cap/shell/topper $1400 obo.
Wedge height is 29"-36". Bought summer 2019 $2395. Excellent condition. Ordered for 3rd gen Taco, may also fit 2nd gen, maybe other mid-sized trucks.
Double doors both sides.
Front sliding glass window.
3rd brake light.
Includes 8 black low-profile track topper clamps.
Outer Dimensions: width at front 64", cap length 76.5", total bedrail contact length 77.5" (has 1" front flat lip), rear door has additional length molding over tailgate.
Height above bed: front 29", rear 36"
Height to ground with 2" OME lift/Dakar leaf pack: 7'5"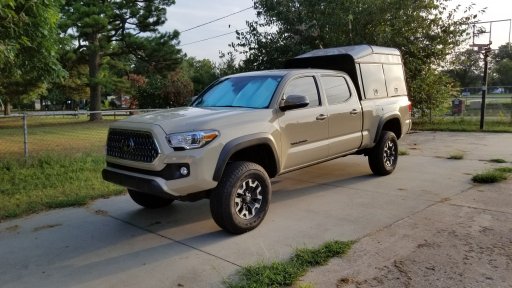 Wooden sleep platform/cabinets/drawers/coffin cabinets $1400 obo
(please see CL for additional pics)
3 drawers, 2 cabinets, one cubby, 2 coffin cabinets under bed.
Fits like a glove in 3rd gen Tacoma (probably fits 2nd gen also).
Retains access to bed electric outlet.
Very sturdy. Real wood all 6 sides. Not plywood/particle board/gypsum.
Easily placed and removed.
Mounts at two rear tie down points with bolt thru & nut (tie downs removed).
Front section bolts together with one bolt/nut. Fits securely under bed rail and kept stable by it's own weight
and cargo weight in cabinets/drawers/coffin cabinets.
exterior dimensions:
overall length: 71.75"
overall width: 52.5"
bed: width 25" x height 15"
cabinet section overall height 17.5"
cabinet at rear width 14"
cabinet at front width 27.75" x depth 12"
center well/board width 13.5" x length 59.5"
Weight: Not certain. I consider it light weight. Possibly 160-170lbs total.
I can place and move myself, and I'm getting older and weaker.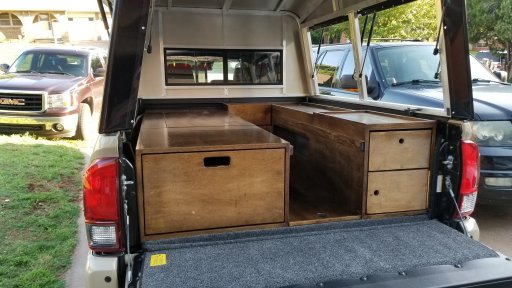 BedRug 3rd gen Tacoma $300 obo.
BedRug fits 3rd gen Tacoma (probably 2nd gen also).
Bought new $399 summer 2019. Asking $300 but will consider obo.
Excellent condition. Kept clean under truck cap/shell/topper and bed/cabinet build.
Nothing like dirt/sand/firewood hauled in it. Just large cargo like 5 gal. buckets.
Comes with unused Velcro and and extra Velcro kit.
I did poke holes at very end to mount under tailgate end protector, but they are barely noticeable (see pics).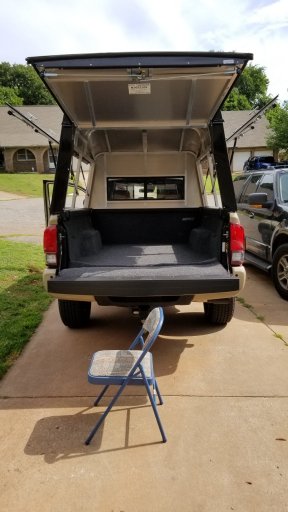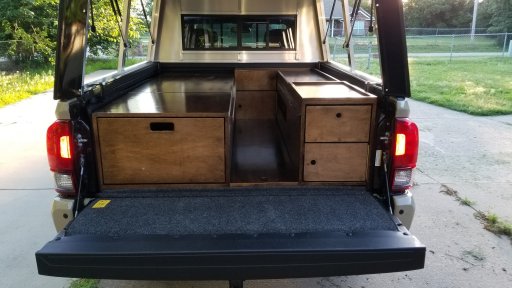 Last edited: