Advocate III
Hi y'all,
I would like to introduce my new adventuring rig and myself. My truck is a 2016 Colorado Diesel Z71 4x4 that is currently sitting at 20k miles. I am located in the Pacific Northwest (PNW) and work as a software engineer. My wife is an athletic trainer and a teacher. We were both born and raised in Central Texas, then attended the University of Texas, and lastly moved to the greater Seattle area last year for work.
My rig is somewhat unique and is not a typical overlanding build as it is getting a full long travel suspension front and rear. The main purpose for my rig is for my wife and I to have fun. Whether that is to hit some trails and service roads in Pacific Northwest, take the truck and quads (Yamaha Raptor 700R and YFZ 450R) out to the sand dunes, camp/glamp, take a long road trip, find a nice remote viewpoint, drive up a pass to go ski/board, or go to an overland rally to learn and meet new people.
You can follow my instagram @overland_tractor
I am a huge go getter, will do all the work I can myself and like to do things only once (the right way). I am constantly going through forums trying to learn new things, meet/help others and just check out other cool builds. I plan on doing better a better job at documenting our travels in the truck, as I now have a gopro and camera to use. Also starting this thread should help as I have a place to keep everything updated.
I will admit that I don't have as much experience in the offroading/overlanding world as I would like to. I have come from another world, as my previous build was a 1990 300ZX with an LS3 swap, an ultimate street and track build (picture attached). However the new rig will be much better suited to having fun in the PNW and beyond. I look forward to gaining experience and learning as time goes on.
Following is a list of things purchased, things needed and things wanted. It will continue to change and grow as time goes on.
Purchased (some pieces not installed):
- Method Grids Black (6)
- Falken AT3W 35x12.5x17 (6)
- Baja Kits +2 Prerunner Kit this kit includes our boxed upper and lower arms, custom heat treated axles, grade 9 hardware kit, extended brake lines and steering extension
- Baja Kits Frame Side Bypass Mount
- Custom King 2.5 Coilovers
- Custom King 2.5 Bypass
- Baja Kits Spring Under Kit
- Deaver Springs
- Baja Kits Bump stop Kit
- King 2.5 Bump stops
- King 2.5 rear shock
- King 2 Tube Bypass
- Fiberwerx front and rear fenders with bumper caps
- All In Trucks Tune and dsp4 switch
- ProFab intake and intercooler pipes
- FloPro Aluminized Exhaust
- Leitner rack
- Leitner MaxTrax mount
- Leitner MaxTrax pins
- (2) MaxTrax pair grey
- (2) Leitner Rotopax mounting plate
- (3) Diesel 2 gal Rotopax
- Water 2 gal Rotopax
- (2) Rotopax extensions
- (2) Rotopax lock mount
- Leitner HiLift bracket
- HiLift Jack Extreme
- Leitner RTT mounts
- (4) Leitner light mounts (for bar or pods)
- Fire extinguisher
- Camp Chef 2 Burner Camp stove with bag and hose adapter
- 2 Gallon propane tank
- (4) Camping chairs
- Folding table
- Lighter
Future:
- Sliders
- Superskidz (all 5 pieces)
- Lights on lights on lights
- Roof rack
- Go pro mount on windshield
- Pressure down tool
- Bottle jack
- Offroad jack
- Winch
- Front and Rear bumpers
- Recovery kit
- Twin onboard compressor
- Dual battery setup
- SPOD or other similar
- Cooler/Fridge
- First aid kit
- Map/gps setup
- Radios
- Hard cases
- ? Water filtration system
- Grill
- AX and Shovel mount on rack inside?
- Inverter
- Outlets with inverter
- Solar panel setup
- Tool kit (so I dont have to take my tools from home)
- Lantern
- Flashlights
- Zippo
- Paracord
- Sleeping bags
- ? Fishing poles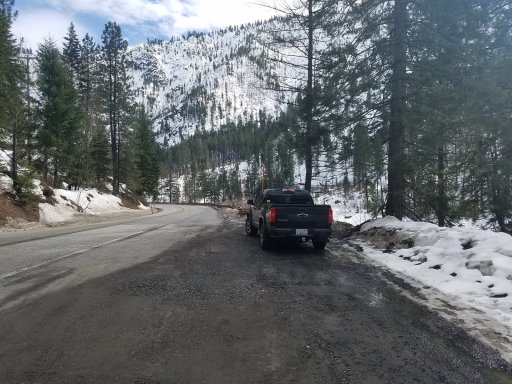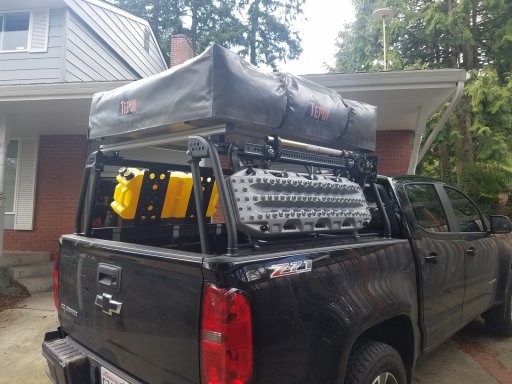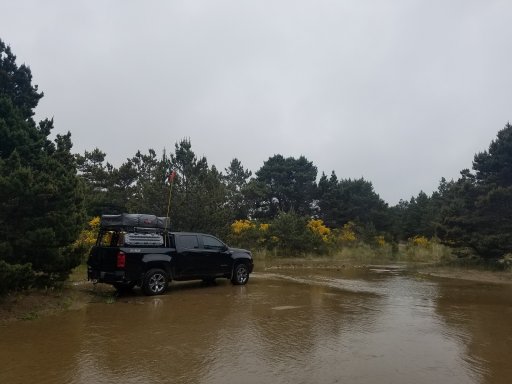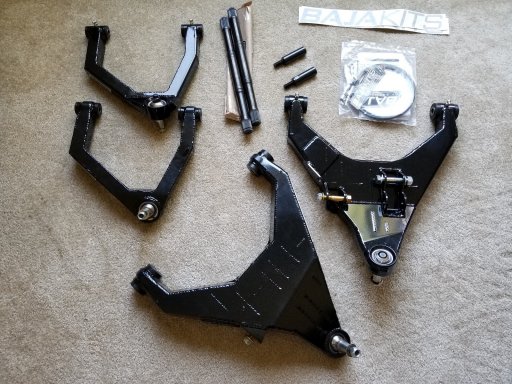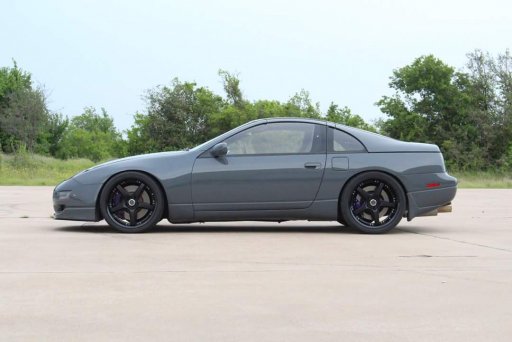 Last edited: