Contributor I
60
First Name

Jon
Last Name

Ford
BLUF: Ford Ranger 5ft Bed Fiberglass topper - Denver, CO - $1,800 - Willing to travel up to 2 hours from Denver.
Asking $1,800, Ranch Sierra Fiberglass camper shell, roughly 4500 miles on it - purchased new in early July of this year for my move from Florida to Colorado. Has a 3rd brake light and interior dome light, interior is carpeted. Exterior paint is color matched to Ford's Carbonized Gray Metallic. Exterior is 9/10, Rocky Mountain Pinstripe on the passenger side from brush while off-roading but should buff out. I have the original receipt and warranty info, although I do not know if the warranty will transfer.
Located in Denver, CO. Shell is currently installed on my truck with C clamps, you must arrange removal or I am willing to help you remove it and install on your truck minus doing the electronics, if you have a setup conducive to making the transfer. Willing to drive about 2 hours from the Denver Metro Area to meet and unload.
Feel free to comment/PM for more info. More pics available upon request, picture below is the best I have on my computer at the moment.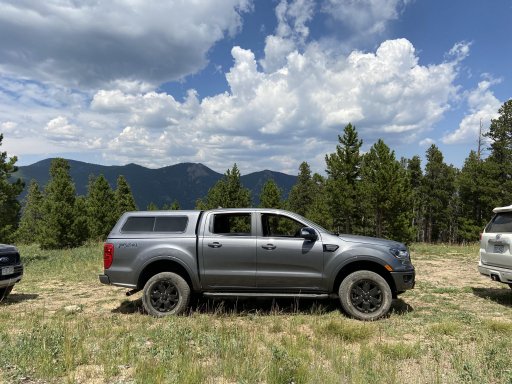 Last edited: