US East Region Member Rep
Staff member
Member

Off-Road Ranger I
3,651
First Name

Drew
Last Name

Hawley
Member #

1537
Ham Callsign

WRBZ674
I've been wrenching on things since my father taught me how but in all the vehicles that I've altered I've never started a build thread. I've always been more concerned with getting the installation done and then getting out there to try it out but here it goes..
I purchased my 2015 Outback to be a daily driven, AWD fear no snowstorm, utilitarian, quiet, shrug off speed bumps vehicle that ran on 87 octane go go juice. We have 2 other vehicles that can't check off all of those boxes, one none. My first Subaru. It's been a great car that came with 8.7" of clearance that has logged miles up and down the east coast several times and done so quite efficiently. Even loaded down and running the AC the car typically returns ~32 mpg. On to the pics which I'll have to admit I don't pretend to be a photographer and rarely take pictures to begin with.
Here it is pretty much when it was new. Looking just like the Outback littering all of your neighborhoods but really enjoying it's paws in the snow.
I had plans before I took delivery of the car and had a pile of things waiting for it. I'm not a fan of chrome or really anything bright except when it comes to lights. So I almost immediately debadged the back, blacked outs anything chrome/bright, and swapped out almost every single bulb in the car. HID lows, PIAA 3k fogs, and LED everywhere else including the high beams. Also added Rally Armor flaps, wheel arch moldings, and tinted the front windows to match the OE rears.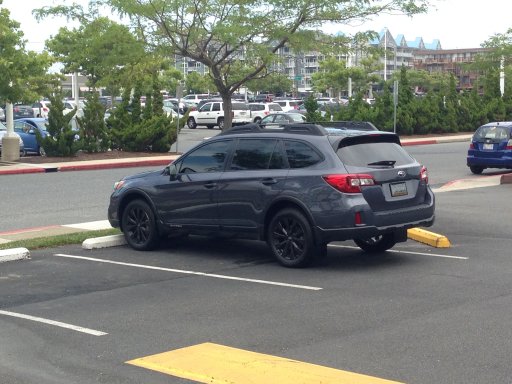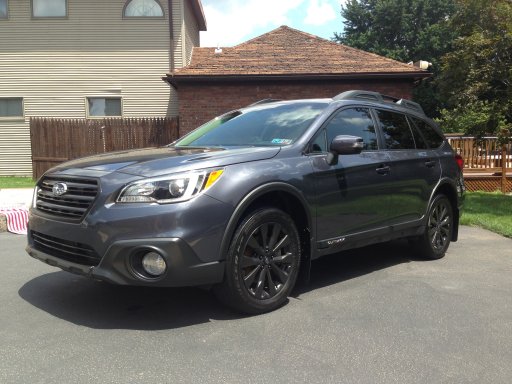 LaminX to protect the fogs/headlights and a Loadwarrior with extension to add to its utilitarian nature. At this point I had no plans to get into Overlanding. All I wanted to do was set it apart from the 100 other Outbacks I see every day.