Advocate I
3,384
First Name

Glenn
Last Name

Cote
Member #

3112
I bought this brand new and it has been evolving ever since it hit our driveway. I built this for trail riding and rock crawling and have 60k on it now and love it. Times change and now we want to mix the trail with the camping so the transformation is taking place and we are very excited about it.
The Day I bought it...
And as she sits today...
So the first thing we needed of course was a roof rack. I built this one out of 1 1/4" steel pipe. A friend had a pipe bender so we made short work of it. For a couple rookies it came out pretty good I think.
Picked up a Cargo Basket for the rack and got a great Cyber Monday deal. I know some folks don't like decals but I think they define your interests and your thoughts. Like the "Money Pit" one on the front...lol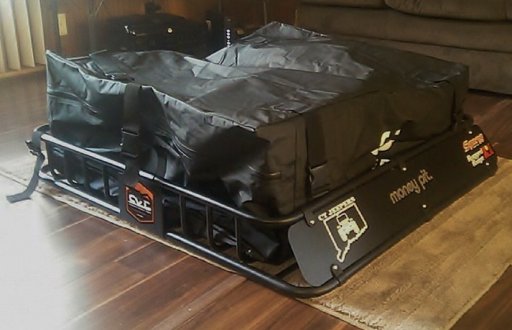 I used to just throw the hi-lift jack in the jeep, bungy it down and go, but never did like that way. Decided to build and weld a jack mount on swing away tire carrier.
To be continued...
Last edited: