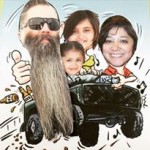 Traveler I
I love the amazing places that we can get to thanks to our Landcruiser. Last weekend we took the Black Mountain Road near Idyllwild, Ca. We have taken this road before and it is one of my favorites. This time we took a left instead of a right and took a little hike up to an amazing fire tower.
You can see pictures and read our recap here..
Punk Rock Parents: Dirt Road Diary.