Pathfinder I
Hey guys !
I decided to make this post about my Overland trip that started two weeks ago because it's not the usual kind of trip ...
This is a ONE YEAR long overland trip across
Mid Europe, Scandinavia, Eastern Europe, Russia, Central Asia and Mongolia
.
My girlfriend Lizanne, our adventure cat Hughie and I left everything in France (Home, job, friends, family, comfort) for this adventure !
Our rig for this trip is a fully overland outfited
1997 SF5 Subaru Forester.
This little soccer mom wagon is also not the usual kind of overland rig you see traveling around the world. But I have absolutely no worries about it's capabilities or reliability.
This thing is lifted, got skid plates, AT tires, low range gear, aux battery, a full overland storage setup and kitchen, RTT, awning, and a lot of MOLLE pouches


More infos on the rig :


Hi guys ! After my own presentation it's time to introduce my rig wich is currently "in progress" (well, like most of our rigs ...) But first of all, I'm gonna briefly explain to you, what leads me here. I own, for about 3 years now, a Volkswagen Mk3 Variant. This is a great car, I love it ...
www.overlandbound.com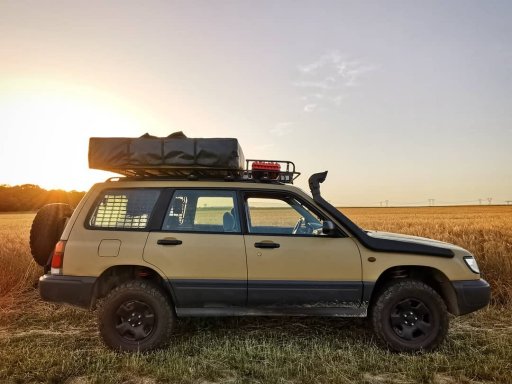 So as I said, we already left ! And we already had a couple of ups and downs

First of all, I broke the D rings that keeps the RTT compressed, we have all the bedding inside and the annex on top of it, so it's a tight fit ! Now I just use spare straps I have but I will work on a more permanent fix.
Then Lizanne had a couple of ticks on her ... This is something we didn't hear anywhere but Sweden is full of these nasty parasites.
And to end the first week in beauty, our little adventure cat Hughie had a badly infected tooth, like really bad
So we had to drive in emergency to the nearest vet, it was an 1h45min drive. And not to mention that Sweden is one of the most expensive country in Europe about vet cares ...






But that's the adventure ! And we will keep going, stronger than ever !



I will try to keep this post as updated as possible but being full time on the road we are a bit limited in data and energy !
To know a little bit more about my rig, our trip and me, you can check my :


YOUTUBE : ALNSM OVERLAND

INSTAGRAM : OVERLAND SUBARU FORESTER (@alnsm_overland) • Instagram photos and videos

FACEBOOK : ALNSM Overland

FLICKR : ALNSM OVERLAND

My girlfriend Lizanne, also have some stuff to share, maybe a bit more girly oriented :


BLOG : The Overland Blog - Made by a Woman - Sparkles In The Wild

YOUTUBE : Lizanne Creugnet

INSTAGRAM : TRAVEL | LIFESTYLE | ROADTRIP (@lizanne_creugnet) • Instagram photos and videos

And if you are really excited by our trip you can also show your support through :


PATREON : ALNSM Overland is creating AWESOME Overland videos in a SUBARU FORESTER | Patreon

MERCH STORE : ALNSM Overland

Many thanks for reading me, I hope you will live this adventure with US !



If we are heading toward your region, please feel free to contact me, we will love to meet you !



And remember guys, it doesn't matter what you drive, you can travel the world in a 20 years old tiny SUV
​