Pathfinder I
1,479
First Name

J
Last Name

W
Member #

17839
Ham Callsign

KE8AYE
We have a friend who works down on the Space Coast in Florida who asked us to visit so, with a few days free, we decided to pack up the Jeep and take a ride down south. Any excuse to get on the road and eat seafood for days on end is a good one, right? This was not a camping trip but it was our first long range trip in the new ride. We ended up going through 7 states and had fun driving on the beach as well as seeing some of the sites around Cape Canaveral.
Did I mention eating all the seafood?
Yes, we still love the Cherokee Trailhawk. It's comfortable on the highway but very capable off the pavement. My only complaint is that the gas tank is too small for my taste. My previous rig had a 25 gallon tank with a few for reserve. The Cherokee has close to a 300 mile range but it's a 15 gallon tank. I'll be adding a couple of fuel packs over the winter to fix that minor complaint.
We ended up going through KY, TN, GA, FL, SC, NC, and back through to OH. Right at 2,500 miles with a quick stop in Savannah on the way back. Good time all around.
Since we weren't doing any serious off roading, I was terrible about getting pics but no post is complete without a few so here are a few quick snaps.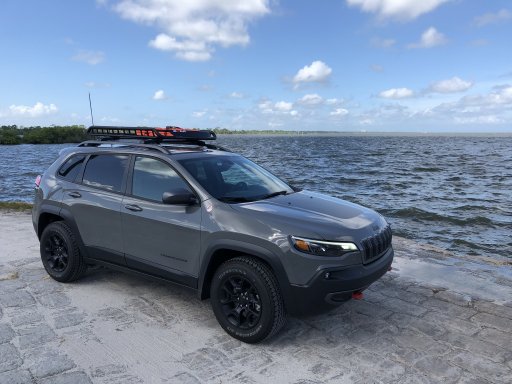 The NASA Vehicle Assembly Building in the background here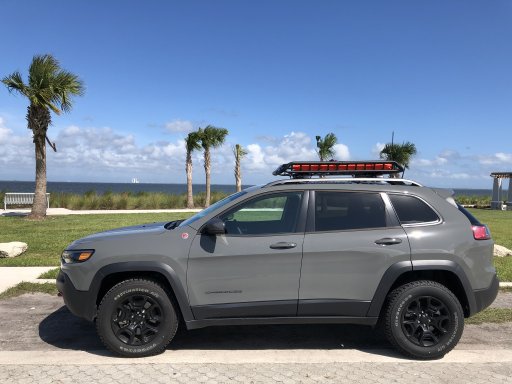 The shore at the Cape
The dinner view did not suck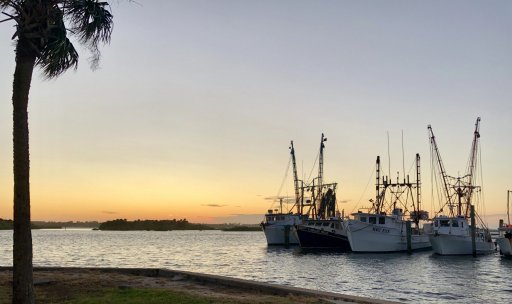 The flags were still out because of Humberto but the weather was perfect.
Forgot to get a pic on the beach, went back the next day and it was high tide. DOH!!
Last edited: