US East Region Member Rep, NJ
Member

Member III
3,278
First Name

Eric
Last Name

Beauchea
Member #

4723
Follow @newjerseyoverland on Instagram for up to date pics and updates!
Long story short, one of my favorite vehicles I've ever owned was my thermal red 2004 Xterra I had bought back in 2005. For whatever reason, I sold it before I got married and have missed it since. New job somewhat dictates that I sold my Tacoma and bought nice nice daily driver. I'm going to use this thread to track progress of the build. Not sure if anyone will follow, but I like to have a record and enjoy tracking the progress. So, without further adieu..
Already installed:
ARB bumper
Lightforce venoms and strykers
Goodyear duratracs
TJM snorkel
Yakima loadwarrior with extension
2" lift in the front
Rockford fosgate speakers
Scangauge II
Removed side steps and mud flaps
CVT Awning
sPod Mini
Midland GMRS
Midland 6dB gain antenna
OEM Nissan steel wheels
Bilstein 5100 / 5125
CVT shower tent
rear ditch lights
Bilstein 5100 / 5125
AC rear lift shackles
GOBI Ladder
Shrockworks slider
Rotopax mounted to ladder
Waiting to be installed:
How it stands as of today.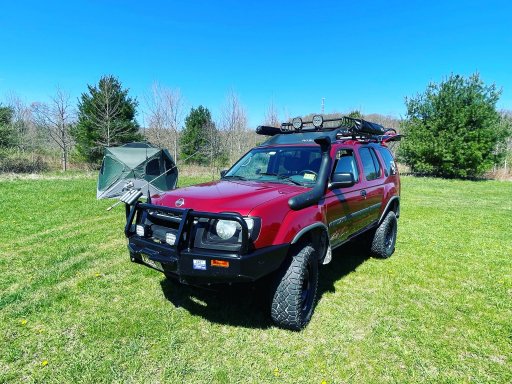 When I first got it.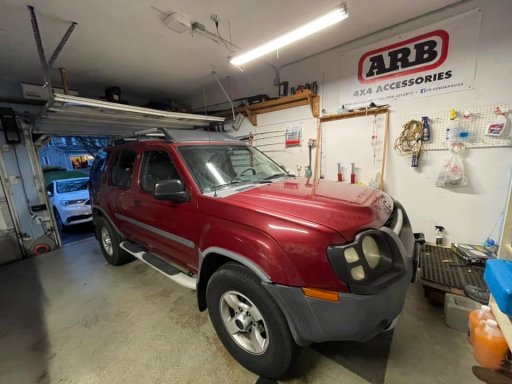 Last edited: