Contributor III
My first disco, my first build, many other firsts to come.
Found an '03 in good shape in Chicago and had it shipped out to Cali:
Immediately ran out of gas on the 101 next to SFO while driving it home from where I met the transportation company, discovering that the fuel gauge wasn't working: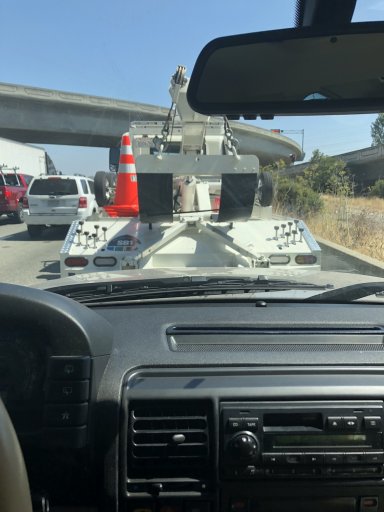 I'd had a new battery put into it before it was shipped to me, which I realize, along with shipping, caused several electrical mishaps and caused it not to pass smog inspection a few times until it had gone through several drive cycles: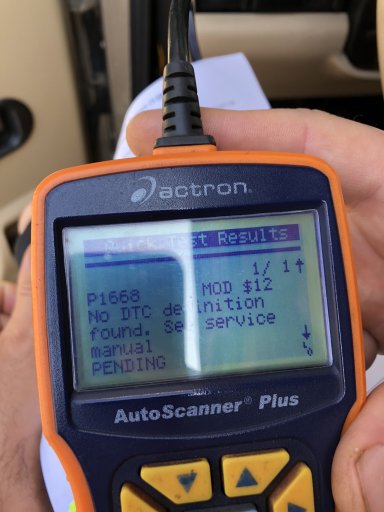 Finally got it street legal after some fun drives down highway 1 and side roads, coasting to stops and such to complete the drive cycle. Luckily we have good scenery around here: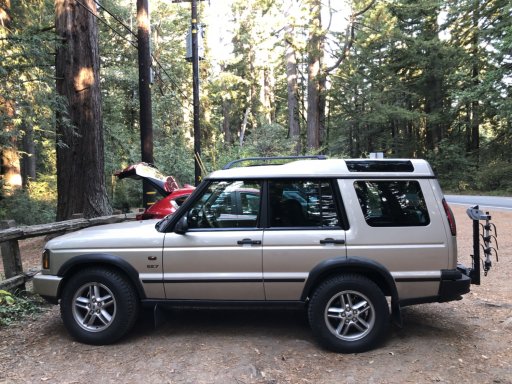 Then started the buildout (and the circus music).
Started with new brakes and pads courtesy of Atlantic British: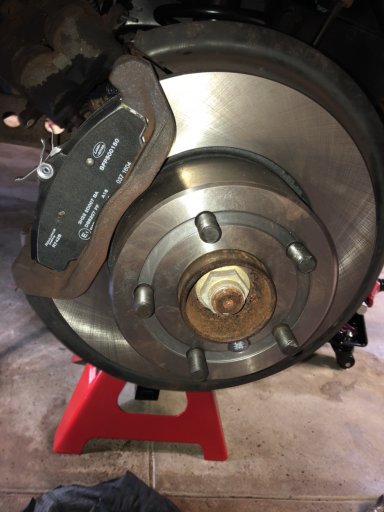 Then went for the two inch terrafirma medium duty lift kit (shocks, springs, shock towers):
Added a terrafirma steering damper and swapped out the front drive shaft for a ton Woods (courtesy of Steve at Lucky8 - who I'm sure is sick of hearing from me by now):
Then moved on to new steel bumpers. This is where the real cussing started. Got a britpart rear bumper and terrafirma front bumper from Lucky8. Rear bumper went on without a hitch(literally - had to remove it to get it on), but the front terrafirma winch bumper was a MF'er. After several attempts in the garage with the father in law, including getting (I think) inadvertently clocked in the head with a tire iron as a makeshift prybar, I gave up and had to take it to a body shop.
Body shop ended up having to do 4 hours worth of work to get it mounted, which around here = $400 at a discount. Super frustrating. They had to cut off a few of the terrafirma brackets to make it fit and it still doesn't mount flush. Anyone had any luck getting any help from terrafirma directly? Lucky8 is looking into it as well.
View attachment 76042
All in all, not terrible, but for $700, I'd rather it be snug and not have to have $400 in aftermarket subtractions to fit.
Alas, onwards. It's starting to come together:
View attachment 76043
Next up this weekend:
Cooper STT Pros with black steel 16" rims
Baja rack install
KC lights on the Baja rack
Last edited: