Contributor I
60
First Name

Tom
Last Name

P
Time has come to let go. Moving on to a full size truck and camper rig. I bought this California truck from original owner July 2017 with 124K on the clock. Truck now has 142,900 mi. Truck is in very good condition. Has been used but not abused. The mods have all been done over last couple years with very few miles on them. I have mostly used it for local desert camping trips of less than 40 miles and 2 trips to N. Cal. I am looking to sell for $32,500. I have much more invested. Not looking to get into running conversations on this post. If your interested DM me here. Truck is located in Yuma Arizona. No rust, no issues never any codes.
Truck Mods:
Suspension- All pro suspension- Expo leafs, U bolt flip, relocated lower shock mounts, extended brake lines, greaseable shackles, bump stops, All pro UCA's, Bilstein shocks all around w/700 springs up front.
Armor- All pro weld on sliders, All pro rear bumper (both are coated with linex) ARB front bumper, stainless skid plate by@22rethan, Trail gear frame plates.
Wheels/tires- 8 stock wheels 5 mounted with Falken Wildpeak 265/75 R16 load range E, 4 less than 1000mi spare hasn't been rotated in yet.
Engine- Always mobile 1 since new. Fumoto drain valve, ARB snorkel, MBRP stainless cat back exhaust, timing belt changed at 90,000, new serpentine belt, AC belt and idler bearing. Redline hood struts.
Camper- Tufport T55 all fiberglass, stainless locking gear, weight 375lb. Home built cabinetry and shelving 3 bolts and all comes out. Custom made tiedowns. Yakima tracks, Baja Racks roof rack, Road shower 4s, 270deg awning, Euro-Vision windows with screens and shades built in, 4 inch foam mattress, rubber floor mat. Rubber mat in truck bed.
Solar system- MPP all in one system (the good one made in Taiwan) has 1000w inverter, completely programable, 110 output, 110 input all protection built into system. Battle born 100amp hr lithium battery, 175w panel, 3 cig sockets, 2 usb ports, amp meter, interior lighting powered by system.
Paint- Completely Raptor lined paint job with camo details applied with air brush. No pinstriping with this paint. Done right with complete sanding and adhesion promoter used on whole truck.
Brand new complete factory service manuals. Have misc. parts pieces that go with sale. Tailgate, paints and anything removed from truck. Build/paint might not appeal to everyone but this is a great example of a 1st gen Tacoma that is ready to go and plenty of room for more custom work.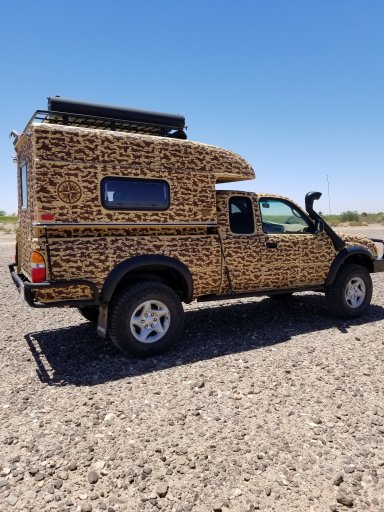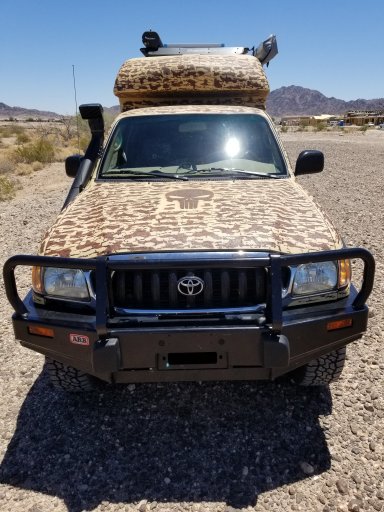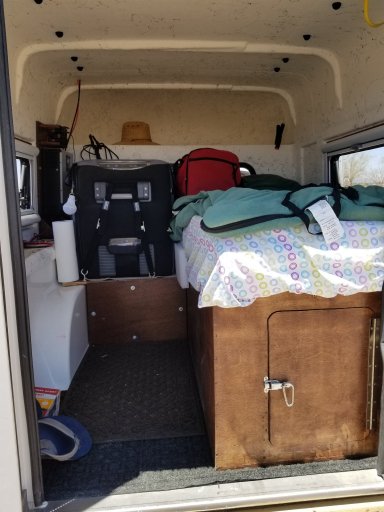 Thanks for looking and please DM for further info.