Contributor I
233
First Name

John
Last Name

Mardueno
Member #

18570
Ham Callsign

Babydot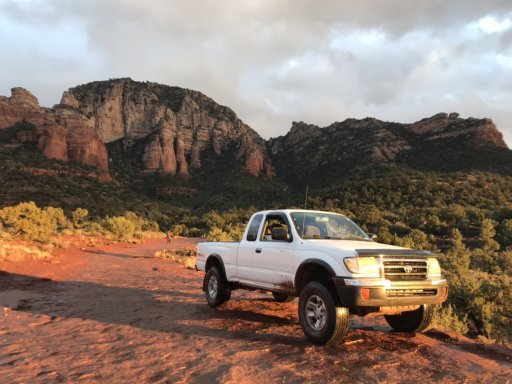 So to start I have always off-roaded. I never had any capable vehicles till now. So for sure I wanted to jump right in and explore everywhere I can.
Bought a 2000 Toyota Tacoma extra cab with all the goodies. 4X4 with electronic rear locker.
Knew from the beginning it can only get better. So I took it out to Sedona, Arizona in hope to see what I can do with everything stock.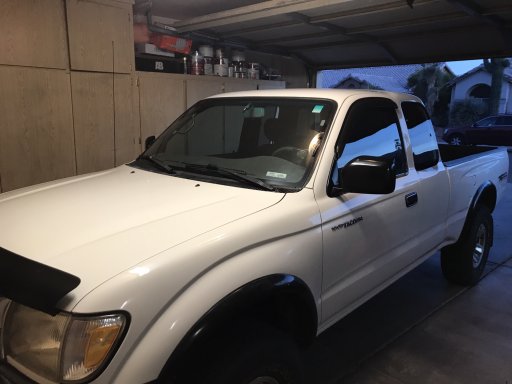 Only thing that was really done to it was it had some Michelin M/S tires.
Decided first thing to get done was get some new suspension.
Went with the Bilstein B8 5100 on all 4 corners. Put the front about 1.5" with the adjustable front shocks. Left the stock leaves and springs.
After realizing that the rear is lower then the front. Threw on 1" blocks in the rear to make her sit level. After that the build kinda went idle. Saving money for more parts and accessories. Soon after everything I was able to afford the front end to be rebuilt. From the fan all the way to all the belts and bearings. Didn't want anything to break due to age, as it has not been replaced since the factory.
After had an incident where the lower control arm ball joint broke out and tore the axel right out.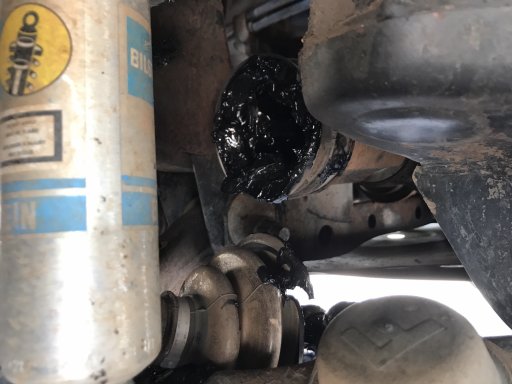 Soon after I decided to replace both upper and lower control arms, axels and spindles. Only thing still stock is springs.
After that costly fix, I dug through the couch to find some change to get some new shoes. Decided to go with the BFG M/T KM3 32" 11.50 R15. Fit perfectly without any rubbing while turning and at full flex.
After that it has just been accessories for travel and comfort. Went with a uniden CB Radio with a 4ft antenna. Added a garmin GPS so I can get lost easier. Then decided to upgrade the interior audio with kickers in all 4 with a 8 inch compact subwoofer.
Working on getting a snorkel and possible a bigger lift so I can squeeze some 33's on her. Last thing I'll probably do is add a ARB deluxe bar front bumper and a trail gear rock assault rear bumper.
That's about it thanks for reading. Message me if you think I should do anything else to make it more capable on and off-road.