Contributor I
60
First Name

Tech
Last Name

OneHundred
Asking $24,900, open to offers
2000 low miles LX470 with a full overland build. Ready to go anywhere and back. California car with no rust at all. 3 owners, clean title. The LX470 is exactly like the legendary 100 series Toyota Land Cruiser mechanically but just more luxurious with better options. It has full time 4WD with a center locker, low range and a-trac. Its never left me stranded or ever got stuck. It turns heads everywhere I go. The rear air suspension has been replaced with Slee heavy 2.5 lift coil springs so you dont have to worry about leaks. The full build details are listed below.
Its been meticulously maintained and never beat on, I have full maintenance records, 3 keys and owners manual. Always used synthetic oil and only Lexus/Toyota parts. It will come with a bunch of extra parts: extra set of 5 land cruiser wheels, stock roof rack, highlift jack, set of chains, and the stock seats for the trunk. Freshly clay bared with a fresh coat of synthetic wax.
Suspension:
OME 303001 Front Torsion Bars
Slee SOF2RH 2.5" Rear Heavy Springs
Front Shocks Ironman Foam Cell Pro (45795FE)
Rear Shocks Ironman Foam Cell Pro (45796FE)
Slee Off Road Differential Drop
Rear Sway Bar Extended 2"
Timbren Super Soft Bump Stop (Front and Rear)
Electronics:
Diehard Platinum Marine AGM Group 34
Diehard Platinum Marine AGM Group 31
Slee Off Road Group 31 Battery Tray
2nd Battery Tray
Painless Dual Battery Controller
Blue Sea Aux Fuse Distributor Front & Rear
Wired for CB Power, Antenna, Remote Speaker
Firestik 2' Antenna
Scan Gauge II Monitoring System with Trans Temp Custom Program
Bussmann 150 Amp Circuit Breaker
Hella Supertone Horns
Underhood (Work) LED Lights
Rear Hatch (Work) LED Lights
500-Watts Inverter
HID 55W 6000K Headlights
Wired for Dash Cam
Exterior:
ARB Bull Bar with Light Kit
Warn M12000 Winch
Dissent Offroad Rear Swing Out Bumper
Labrak Rear Mounts (x2)
Bolt on Rock Sliders
Spressomon Front Shackle Recovery Mount
Front Runner Aluminum Modular Roof Rack
Front Runner Highlift Mount
Front Runner Bottle Opener
Snorkel
Extended Axle Breathers
Rigid Industries Dually LED with Amber Covers
PFran LED Reverse Lights
LED Courtesy Light Wiring
42" LED Light Bar with Amber and Blackout Covers
Rear LED Camp and Reverse Lights with Remote Control
Front, Transfer Case and Gas Tank Skids
Interior:
Rear Cargo Pet Barrier
Rear Drawer with Sliding Fridge Mount
Rear 12V Outlet
PFran LED Interior Lights
PFran Red LED Map Lights
Weather-Tech Floor Mats
Disabled steering wheel auto up to prevent wear on motors
Shovel and Axe Quick Fist Mounts
Custom Fit GT Seat Covers on Front Seats
Stereo:
Pioneer MP3/USB/Bluetooth Hands Free Head Unit
Focal Speakers All Doors and matching 13" Sub
JL Audio 500/1 Amp
Wheels & Tires:
5 Nitto Terra Grappler 305/70r17
5 Toyota TRD Rock Warrior Alloy Wheels
Cons: There is a tiny exhaust leak, never got around to fixing it but I am including the parts. The door lock actuators sometimes don't work when its very very hot out. Other than that its in really good condition.
Maintenance Log:
Oil Mobile 1 Synthetic 5W-30 (7.2 quarts with filter change)
Oil Filter Mobile 1 M1-209 or OEM 90915-YZZD3
Air Filter Fram CA8918 (Changed at every oil change)
Major Services:
July 20, 2015
At 118,900 miles
All Toyota OEM Parts: Timing Belt, Serpentine Belt, Denzo Spark Plugs, Water Pump, Thermostat, 2 Idler Pulleys, 2 Heater T's, Toyota Red Coolant, 2 Front Hub Oil Seals, Repack Front Wheel Bearings
Sept 14, 2016
Rebuild Front Axle Boots (OEM Boots and Grease, PFran Clamps)
OEM Front Brake Pads
Flushed Both Front and Rear Differentials and Fill (Mobile 1 75w90 and Updated Fill and Drain Plugs to 10mm Allen)
Flushed Transfer Case and Fill (Mobile 1 75w90 and Updated Fill and Drain Plugs to 10mm Allen)
At 138,122 Miles
October 19, 2016
Drain and Fill Transmission Fluid
Toyota Automatic Transmission Fluid Dextron II/III (3 Quarts)
At 139,143 Miles
December 20, 2016
Replaced Front Sway Bar Bushings
Replaced OME Front/Rear Shocks with Ironman Foam Cell Pro
Flush and Fill Power Steering Fluid (Toyota ATF)
At 141,135 Miles
July 20, 2018
Replaced Rear Pads
Replaced Rear Rotors
At 160,100 Miles
Oil/Filter/Air Filter Changes and 5 tire rotation:
Jan 15, 2014 – 100,988 miles
May 8, 2014 – 105,372 miles
Oct 30, 2014 – 110,927 miles
Mar 31, 2015 – 114,720 miles
Sep 10, 2015 – 120,486 miles
Feb 2, 2016 – 127,010 miles
June 8, 2016 – 132,879 miles
Sep 14, 2016 – 138,122 miles
Mar 16, 2017 - 144,152 miles
Sept 6, 2017 - 150,043 miles (cabin air filter too)
Jan 14, 2018- 155,632 miles (brand new HID kit)
July 4, 2018 - 160,668 miles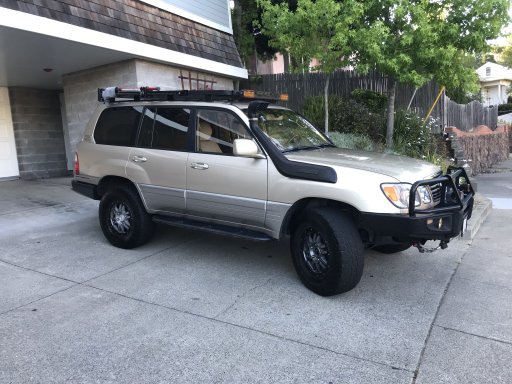 Last edited by a moderator: