Contributor I
My base rig is a 1983 CJ5. I think the thing was towed behind a motorhome in the 80's for 29,000 miles and then sat in a warehouse until 2008 when I bought it. Since 2008 I I've put roughly 5,000 miles on it. So my base rig was an 1983 CJ5 with 34,000 miles on it. Since this was my Ken doll beach cruiser it didn't have a top.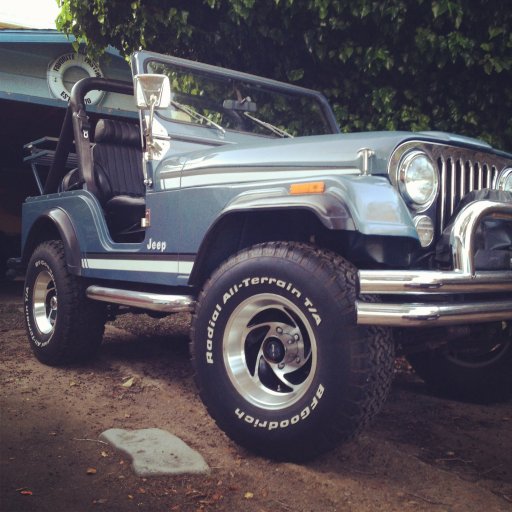 That was the first thing I'd need for it to start doing proper overland drives especially if I planned to do anything in the mountains...I think. Shit I don't know I've never done this before. I really wanted a hardtop but the last era of the CJ they never made a hardtop for it and the previous generation hardtop wouldn't fit. I thought I was set on a Bestop Tiger Soft Top it has solid reviews and the sides roll-up which would be bitchin' for summer. But then I found Rally Tops…based out of Torrance, CA right up the road from me. They build custom hardtops for all Jeeps even the 1983 CJ5. It was a no brainer for me since I wanted the CJ to be very overlandish. I wanted to keep the vintage look of the Jeep as though it could have possibly come off the lot in 1983. The call was made the order was in and now the wait began.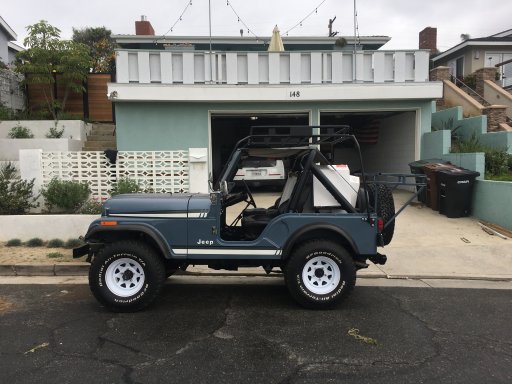 Next I wanted to get rid of the chrome bumpers, sidebars, and wheels. The look was super 80's in my opinion and while I enjoyed it when I first got the Jeep the new overland direction the Jeep was taking the chrome wasn't going to work. I decided to go back to a stock black front bumper and a RockHard 4X4 rear bumper. I pulled the front bumper off and installed the new one myself but had Full Tilt Off Road in San Clemente do the rear bumper, I had a great cargo rack that I wanted to keep so they helped fabricate and make that happen. They also had to grind off the sidebars since they were welded on. Since the CJ5 was also going to making Baja runs and weekly runs to San O. I needed a way to carry surfboards. I didn't want to drill anything into the new hardtop. Something about Yakima hardware installed on the top would take away from the nostalgic look I was going for. I opted for a Safari Rack from Warrior Products. I was really uncertain on how this was going to look and if I was going to like it at all. I was hoping I could get it to look similar to the Defender in the new Deus movie South to Sian. As soon as the Safari Rack showed up I snapped the aluminum plated WP off. Shit looks so cheesy to me. Anyways I had Full Tilt install this as well. I ordered rear corner guards as well from Warrior Products but they don't come pre-cut so the cost to do it all plus have them powder coated to match the truck was starting to get ridiculously expensive. It's not a rock crawler so I decided to save the money, and weight and sent them back. I also installed a set of white wheels.
After what seemed like forever I got the call that my hardtop was ready. I decided to keep the top and doors white to match the wheels (it was also cheaper). I also knew that if I ever decided to paint the top or doors white would be the easiest to do.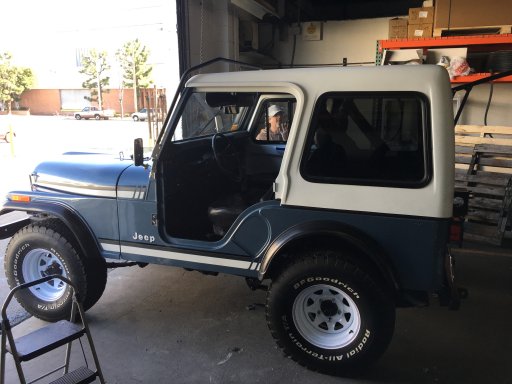 I dig the look and feel inside and outside the cab now. It's nice to be able to finally hear the radio, turn the heat on and stay warm, and have a conversation. That weekend I took her out for her maiden voyage to Joshua Tree. I had no idea what I was getting into but had a good time, didn't get stuck, and was thrilled how she handled.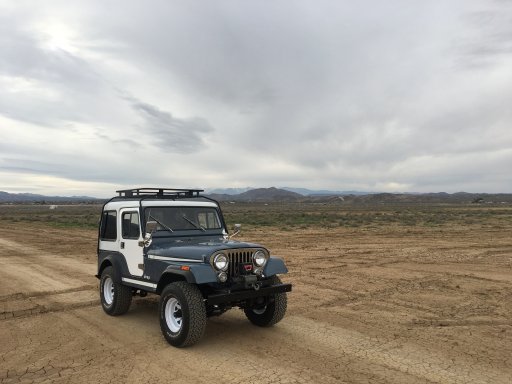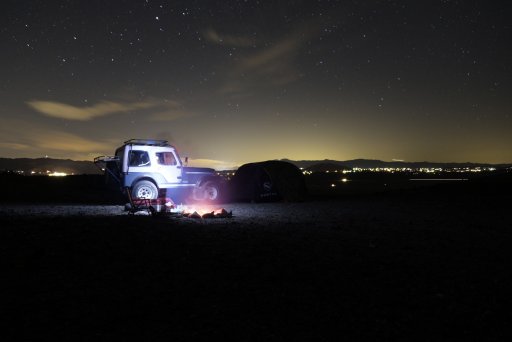 This little rig just opened up an entire new world for me. I'm excited to continue to explore and share my build here. To be continued...