Trail Guardian Workday in Mojave Preserve
Work in conjunction with the Mojave Preserve to accomplish several projects.

Top off fuel prior to entering the Preserve!
START DATE

Friday, April 23, 2021

05:00 PM Pacific Time (US & Canada)

17:00 Hrs GMT -8:00

END DATE

Sunday, April 25, 2021

08:00 AM Pacific Time (US & Canada)

08:00 Hrs GMT -8:00
OVERLAND BOUND REGION

US West

EVENT TYPE

Trip

DIFFICULTY

2 EASY
Terrain Type
Dirt Road

Highway

Mud

Sand
Recommended
Channel
HAM

146.460 Simplex

GMRS

Ch 15 Simplex

CB

Ch 16
Rally Point Notes:
Mojave Preserve Trail Guardian Event April 24, 2021
Everyone is asked to be in Base Camp by Friday night, April 23. Assignments for the next day's work locations will be given out around the campfire. Please bring at least one bundle of locally-sourced firewood.
We have planned several projects that will take most of the day Saturday. The purpose of this trip is to complete Trail Guardian work. Sign up on the Rally Point for this trip ONLY if you will be staying for the entire work day.
Most of you have been on the Mojave Road in the past so this time I am going to give you some suggestions of places to see on your way to base camp or after the event. This is a very short list but a start - the object is to reduce the impact on the Mojave Road as much as possible by spacing out our travel on it. Top off your fuel tanks prior to entering the Preserve
Camping in the Mojave Preserve - https://www.nps.gov/moja/planyourvisit/primitive-camping.htm
Kelso Dunes - great campsite with a good hike up the dunes. (Also one of the work sites) https://www.nps.gov/moja/kelso-dunes.htm 34.88823 -115.71674
Vulcan Mine, a deep pit iron mine. All the ore for the steel that built the Liberty Ships in WW2 was mined here. Great view of the Kelso Dunes. http://wikimapia.org/5316922/Vulcan-Mine 34.92179 -115.56814
Hole In The Wall, a campground with a really great walking tour. https://www.nps.gov/moja/planyourvisit/upload/HITW_Area_Trails-10-6-CS5-low.pdf 34.04265 -115.39599
Allured Copper Mine, has a view of the Ivanpah valley (rumored to be a good campsite). https://westernmininghistory.com/mine_detail/10102976/34.37224 -115.47720
Caruthers Canyon, a hiking and camping area. https://www.birdandhike.com/Hike/MOJA/Caruthers/_Caruthers.htm 35.24110 -115.30013
Goff's Schoolhouse, Mojave Desert Heritage & Cultural Association. Not sure if the Museum is open but this is a great group. Some of their members will be helping with our projects. https://mdhca.org/cultural-center/schoolhouse34.92143 -115.06729
Top off your fuel tanks prior to entering the Preserve
Schedule for the April 2021 event;
Thursday 04.22.21 - For the new people that want to travel the Mojave Road, arrive at the staging area off of Needles Highway to spend the night. This is a large open wash just west of the highway. Make sure you fuel up in Needles, Fort Mojave or the Avi Casino before heading to camp.
Needles Highway and Mojave Road turn off 35.051650 -114.676625. There will be an OLB flag at this location. Thursday camp will be in the area of 35.055651 -114.689897.
Friday 04.23.21 - Leave camp between 0800-0900 hrs. drive the Mojave Road to the Base Camp. View the sites along the way and clean up as needed. Everyone at the event will stay at the Thomas Base camp Friday night. Base Camp (Thomas Place/Ranch) 35.175409 -115.462134
Saturday 04.24.21 - One group will work at the Death Valley Mine with the Park Archaeologist Dave Nichols, starting at 0800 hrs. Bob Brann will be the lead. A second group will go to the Kelso Dunes Campground and install fire pits and wilderness barriers. The Mojave Desert Heritage & Cultural Association will also be at this location to help with the project. Mike Lee and Tom Butler will be the leads on this project. There is the possibility of some additional work at Kessler Ranch.
See RICS plan for details regarding Saturday's cleanup (see PDF on the Rally Point.)
Saturday evening - Raffle with Overland Bound HQ. This will be at Thomas Base Camp.
Sunday 04.25.21; Break camp and continue exploring the Mojave Preserve in separate groups. For those staying another night, Sunday night we will camp either at the Afton Canyon Campground or up on the hill at the group campsite. The group site has a huge fire pit.
Camp 35.038189 -116.384107
Once you arrive in the Mojave Preserve, Friday's base camp is very easy to find, south of the Death Valley Mine (see PDF on this Rally Point).
THE LOCAL HEALTH OFFICERS PPE REQUIREMENTS MUST BE MAINTAINED AT ALL TIMES. Additional information will be messaged to all attendants as the event gets closer. Social distancing must be maintained at all times.
Top off your fuel tanks prior to entering the Preserve
Information about the Mojave Preserve;
Dennis G. Casebier "Mojave Road Guide: An Adventure Through Time" available on Amazon. (Dennis just passed away last month.)
Mojave National Preserve Tom Harrison Maps available on Amazon.
National Geographic, Mojave National Preserve Map available on Amazon
Here is a GPX that can be filtered as needed. Probably the best file for the Mojave Road and Preserve. https://caltopo.com/m/2E26#
4 Events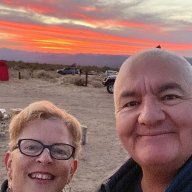 Kent R
Executive Director
1632
50 of 50
Start Point: 15098 Cima Rd, Nipton, CA 92364, USA GPS Coordinates: 35.17541, -115.46213 Notes: Thomas Place Base Camp, Friday evening - Sunday morning
This Rally Point location and route can be downloaded if the buttons are active. The "Launch Google Earth" option will allow you to review the location in 3D. Please keep in mind, actual terrain may vary greatly. This should be used for reference only.
Save KML
Save GPX
PDF
Launch in Google Map
Launch in Google Earth