Switzer Lake / Flagpole Knob Ride
Hello fellow Overlanders... In this time of crisis, we all need to take a step back and relax a bit. That's exactly what we're doing come May 15th. Switzer Lake to Elkhorn Lake run... fun trails, amazing camp spots, beautiful views. Let's do this!
START DATE

Friday, May 15, 2020

12:00 PM Eastern Time (US & Canada), Bogota, Lima

12:00 Hrs GMT -5:00

END DATE

Sunday, May 17, 2020

05:00 PM Eastern Time (US & Canada), Bogota, Lima

17:00 Hrs GMT -5:00
OVERLAND BOUND REGION

US East

EVENT TYPE

Trip

DIFFICULTY

3 MODERATE
Terrain Type
Dirt Road

Highway

Mud

Rock Crawling
Recommended
Channel
Rally Point Notes:
A little bit of East meets West, we have two VA groups that will be headed to the Switzer Lake trail for a nice campout getaway ( Trailhead - 38°34'42.8"N 79°08'12.5"W ). This trail is a moderate trail, most any 4x4 / AWD vehicle can handle this no problem. This is a 2 stage trip, so I'm going to notate our itinerary as follows:
*Day 1 - Meetup @ Switzer Lake Trailhead around Noonish. Head up and find a suitable camp area and relax for the day/night. ***NOTE: Be ADVISED... if you plan on rolling in Saturday night and we don't have any room at our site, please heed the following info... You CANNOT camp anywhere on Switzer Lake trail until you get past the first water bridge. If you do camp before this point, you can be fined and kicked out if caught by a ranger... and they DO patrol there, especially with the current Covid-19 situation.
*Day 2 - Get your morning breakfast fix and break camp, then have a Drivers Meeting @ 10am. Wheels up and headed to Flagpole Knob at 10:30 am. We will hit Flagpole and then break for lunch around 11:45-12. After lunch, we will head towards West Augusta area, stopping by Reddish Knob and find a suitable camp. Then it's time for dinner, have some drinks, share stories, passout... at least that's my plan, hahaha!
*Day 3 - We will break camp and head out at 11am. The plan for Sunday is to head towards Elkhorn Lake. The trail's first half is a combo of easy rocky trail and some "fun spots" along the way. Lots of good picture opportunities! The main portion of the second half is nothing but gravel/dirt road that exits out on Braley Pond Rd onto Hanky Mountain Highway, 20 minutes from the main highways.
So, like I said before, this is a 2 stage trip, because a few of us will possibly be headed off Sunday to go to Crabtree Falls area for a different campout. Those that want to join, please let me know so I can have an accurate headcount, as spots in Crabtree are smaller and limited compared to Flagpole/GW area. We will only be staying here for 1 night... just a straight relax and chillout day. We will arrive at Crabtree, setup camp and relax. Simple as that.
This should be a fun and relaxing weekend for everyone. Lots of fun trails, fresh mountain air, nothing but overlanding at its' best.
***A few things to note for this trip:
- Vehicle Count/Limit - With everything going on, we need to limit the vehicle count to 10 rigs max. The sites are not huge, they're big, but we can't be squeezing rigs next to each other.
- Food/Drinks - Everyone will be responsible for their own supplies. Usually we do a communal meal, but due to the precautions for this virus, we are being as mindful as possible.
- Social Distancing - Obviously we will all be camping together... but we will all do our best to maintain a safe distance from each other.
- Communications - We will have various comms throughout the group, but most of us will be using CB & GMRS Handhelds.
- Trail Riding - A lot of this will be gone over during the drivers meetings, but just want to state one of the biggest issues I see regularly. If you have someone behind you, please, PLEASE do NOT let the vehicle behind get out of sight. You never know what can happen and it only takes a few seconds for an accident to happen. So be mindful, we have experienced riders, new riders and everything inbetween.
We are looking forward to this trip and we hope you can come out and join us for this adventure! Because that's what we live by... "Adventure is Necessary"
If you have any questions or concerns, you can contact either myself ( 4lo_panda ) or Terry ( TerryD ). We will be happy to address anything you have for us!
0 Events
IV
Rank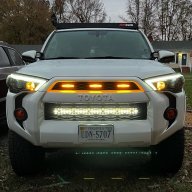 foamy_squirrel
19075
Richmond, VA, USA
06/27/19
10 of 10
This Rally Point location and route can be downloaded if the buttons are active. The "Launch Google Earth" option will allow you to review the location in 3D. Please keep in mind, actual terrain may vary greatly. This should be used for reference only.
Save KML
Save GPX
PDF
Launch in Google Map
Launch in Google Earth