Socktoberfest 2020
Hello Travelers! I've put together a route for the weekend and its a big one! Let me be upfront, this route is REMOTE. We will be travelling into an area of Quebec known as "The Big Empty". Fuel is mostly 300km between stops and there's very little in between. We should be on the upside of the incredible fall colours and the sun always shines in on my Discovery so, uh yeah, I've got that going for me. Bring warm socks it'll be cold at night :)
START DATE

Thursday, October 01, 2020

06:00 PM Eastern Time (US & Canada), Bogota, Lima

18:00 Hrs GMT -5:00

END DATE

Sunday, October 04, 2020

02:00 PM Eastern Time (US & Canada), Bogota, Lima

14:00 Hrs GMT -5:00
OVERLAND BOUND REGION

CA Central Canada

EVENT TYPE

Trip

DIFFICULTY

2 EASY
Terrain Type
Recommended
Channel
Rally Point Notes:
Hi Travellers,
Here's the details of the planned trip for the weekend of the 2-3-4 Oct.
Thursday. KMs TBD
Meet at a smallish free cam spot along Highway 17. This site is close-ish to the highway, but traffic isn't so bad at night and it's convenient to start in the morning :) Fuel before arriving here as the gas station in Swisha is small and it'll be a cluster in the morning, if you arrive after these (below) stations are closed then clearly its gas in the AM in town. There is a small grocery at the gas station for last minute supplies.
Gas stations in Deep River:
Ultramar, closes at 20:00, diesel.
Esso, closes at 21:00, no diesel.
Canadian Tire Gas Bar, closes at 22:00, diesel.
Gas stations in Rolphton (Closest to camp)
Esso, closes at 19:00 does sell diesel
Thursday night camp site GPS: 46.211990, -77.926990
There are no services at this site.
Friday. 341Kms
Depart camp in good time, and meet at the ZEC office for 10:00. Access to the ZEC is $10.00 per vehicle for the day. BRING CASH. For the record anyone wishing to meet us at the Zec office for ten am Friday is welcome to do this as well understanding that it may be a stretch into the evening for some, and if you're a turbo morning person then that works too.
ZEC Office 46.208296, -77.701256
The days track at 341 KMs means we need to overall average about 40km an hour to arrive by 18:00. Sunset is 18:45. This ambitious but doable if we stay on track :).
The roads are a mix of sandy gravel and gravel for the most part there will be some smaller sections but much of this track is do'able in a passenger car. These roads can change quickly and washouts, sand traps etc are possible.
We will need to go past the turn off for the camp site to get fuel in Louvicourt and double back.
Ultramar Louvicourt, closes at 23:00, diesel. 48.072602, -77.382697
Camping Friday night will be at the Pourvoirie Lac Gueguen. I've arranged a group site, the management tell me they'll do their best to have toilets and showers available as the weather is a wild card. They aren't able to promise that they'll be open as pipes may be freezing overnight... Plan accordingly.
Friday night camp site (Pourvoirie Lac Gueguen): 48.071557, -77.226128
Saturday. 363.2KMs
Depart Camp @ 10am everyone will have fueled in the evening. The days track is longer than Saturday but follows an EPIC gravel road through a very remote region of Quebec. I expect the the fall colours and the scenery to be fantastic. The first half of the day is on a main forestry trunk road that is quite wide and almost exclusively made of long sweeping corners. The second half of the day tightens up a bit but is still forestry roads, and should not be challenging in a typical overland vehicle.
Fuel in the town of Parent is at the general store that is also a SAQ so cold beer and wine with a good selection of groceries and the like
Fuel at Dépanneur et Epicerie chez mon chum, closes at 21:00, diesel. 47.923236, -74.628973
Camping will be at an abandoned air port 50KM east of Parent. The strip itself is still active but there is mucho space for camping. The river is nearby, this site has not been vetted by me so we'll wing it as to exactly where we setup but should be easy to sort out.
Saturday night camp site (Casey Air Strip): 47.940169, -74.088703
Again, there are no services at this site, plan accordingly.
Sunday. 261.7 km
Well roll out of Casey at a time appropriate for the morning, the route is a big gravel highway to Mont-Laurier. The last 30-40 km are paved. After Mont Laurier we will mostly split up and disperse to our respective roads home.
Fuel and Tim's or Mackers or Valentine etc all available in town.
Final thoughts:
Everyone is welcome to bring their dogs, kids, friends, boyfriends, girlfriends and/or wives assuming they like this sort of thing. Understand that there will be a few wobly pops consumed and quiet time will be kinda sorta whenever. It'l be tame but you know how campfire chats can get... So small children may be up half the night... maybe?
I need to reiterate this route is remote, very remote. If you are stranded by your vehicle it will be a significant operation to have it towed out. Bring a satellite messaging device, tools, spares, oil, coolant, and whatever else you and yours need to spend a weekend in the bush. Mobile coverage will only be about 5% of the route, if that. Comms for the trip will be 462.6125 - FRS & GMRS 3
0 Events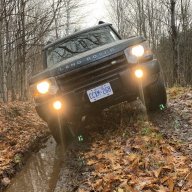 ryancarman
Canada Member Rep Ontario/Quebec
23280
Pakenham, ON, Canada
04/20/20
6 of 10
Start Point: 41306 Hwy 17, Stonecliffe, ON K0J 2K0, Canada GPS Coordinates: 46.21199, -77.92699 Notes: The entrance to camp is just at the end of the guard rail on the right hand side.
This Rally Point location and route can be downloaded if the buttons are active. The "Launch Google Earth" option will allow you to review the location in 3D. Please keep in mind, actual terrain may vary greatly. This should be used for reference only.
Save KML
Save GPX
PDF
Launch in Google Map
Launch in Google Earth