Redding ARRL Ham Radio Exam
Redding ARRL Team monthly HAM radio monthly exam ( http://www.reddingve.com/index_files/examdates.htm ). All candidates are asked to arrive early so that we can start testing by 10:00 AM. (Except for Jan 19th). Due to space limitations, we cannot accommodate walk-ins (those who do not pre-register).

The deadline to pre-register is noon on the day prior to the exam.

Please do as much studying as you can prior to the examination (See Study Guides). Pre-Registration is preferred.

PLEASE COME PREPARED !!!

2. Get your FRN number (See FRN FAQ).

3. Pre-Register by email. (See Pre-Registration)

4. Assemble your documents to bring with you on the day of the exam. Include:

A) Your license and a photocopy of it.

If applicable, bring the original and a photocopy of your current Amateur Radio license and any Certificates of Successful Completion of Examination (CSCE) you may hold from previous exam sessions. The photocopy(s) will not be returned.

B) Photo ID—Driver's License, Passport or Student ID

When no photo ID is available, two forms of identification must
be presented:
a. non-photo ID/driver\'s license (some states still have them)
b. birth certificate (must have the appropriate seal)
c. social security card
d. library card
e. utility bill, bank statement or other business correspondence that specifically names the person; or a postmarked envelope addressed to the person at his or her current mailing address.

C) Your FRN number (or Social Security Number)

Bring your Social Security Number (SSN) or your FCC issued Federal Registration Number (FRN). VEC's are required by FCC to submit either your SSN or your FRN number with your license application form. If you prefer not to give your SSN, then you may use your FCC issued FRN, if you have one. For instructions on how to register your SSN with the FCC and receive a FRN, visit the FRN FAQ Tab and/or the FCC\'s registration instructions page.

D) A check made out to ARRL/VEC for $15.00

E) A calculator

A calculator with the memory erased and formulas cleared is allowed. You may not bring any written notes or calculations into the exam session. Slide rules and logarithmic tables are acceptable, as long as they\'re free of notes and formulas. Cell phones must be turned off during the exam session. Cell phone calculators cannot be used during exams.
START DATE

Saturday, July 20, 2019

10:00 AM Pacific Time (US & Canada)

10:00 Hrs GMT -8:00

END DATE

Saturday, July 20, 2019

12:00 PM Pacific Time (US & Canada)

12:00 Hrs GMT -8:00
OVERLAND BOUND REGION

US West

EVENT TYPE

Meetup

DIFFICULTY

1 VERY EASY
Terrain Type
Recommended
Channel
0 Events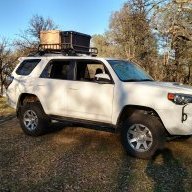 Cottonwoody
US West Region Member Rep
3457
0 of 50
Start Point: 2486 Progress Dr, Redding, CA 96001-3208, United States GPS Coordinates: 2486, 0 Notes:
This Rally Point location and route can be downloaded if the buttons are active. The "Launch Google Earth" option will allow you to review the location in 3D. Please keep in mind, actual terrain may vary greatly. This should be used for reference only.
Save KML
Save GPX
PDF
Launch in Google Map
Launch in Google Earth