Mojave Road
Five day trip through Mojave Road. We will be doing the road east to west starting near Avi Resort & Casino, ending at Afton Campgrounds. Thursday May 2nd we will be grouping up @3pm and finishing the road May 6th. Come for all or a portion of communicated in advance. Be prepared for 4 days in the desert, extra water and fuel required.
START DATE

Thursday, May 02, 2019

03:00 PM Pacific Time (US & Canada)

15:00 Hrs GMT -8:00

END DATE

Monday, May 06, 2019

11:00 AM Pacific Time (US & Canada)

11:00 Hrs GMT -8:00
OVERLAND BOUND REGION

US West

EVENT TYPE

Trip

DIFFICULTY

3 MODERATE
Terrain Type
Recommended
Channel
Rally Point Notes:
Below is the rough itinerary that is subject to change depending on road conditions, weather, and group preference. If you plan to meet up with the group on the way be sure to indicate that so we can make an effort to coordinate the details.
Itinerary
Thursday May 2nd

We will be leaving the Central Valley, CA (Modesto) towards the meeting point at Avi Resort and Casino. We will hold a drivers meeting at 3pm in the Avi Parking lot for drivers. As this may be a long travel day for many drivers to the starting point, we will only do a small section of the Mojave Road to Balancing Rock Primitive campground. We will camp there for the evening to provide time for meet and greet and vehicle/equipment shakedown (I.e. make sure everything is good before we get deep onto the trail and you may need something!) The drive will be approximately 15 miles of mixed on road/off-road.
Balancing Rock CG GPS: 35.102875 -114.775029
Approximate total mileage for Thursday @ 15miles (because of traveling to the Mojave for most may entail hours or prior drive time.)
Friday May 3rd

Break camp at Balanced Rock CG and begin westward. We will be on the Mojave Road towards the Piute Valley, Piute Mountains, Fort Piute.
Fort Piute: Fort Piute - Wikipedia
Fort Piute GPS: 35.115020, -114.985260
We will continue through towards Government Holes.
Government Holes: Mojave Road - Government Holes
Government Holes GPS: 35.149245,-115.354778
We will camp near Mojave Camp.
Approximate total mileage for Friday @ 55 miles
Saturday May 4th

Break camp and continue westward. Saturday will be full of many sights and exploring. We will go through several spots that will require mild hikes to the sights such as the Lava Tubes and Death Valley Mines. We will also pass some Mojave oddities such as the mailbox, different
Death Valley Mines: Mining in Death Valley - Death Valley National Park (U.S. National Park Service)
Lots of exploring! Located a few miles north of the Mojave Road and east of Cima,
Death Valley Mine GPS: 35.21861,-115.464722
Marl Springs: Marl Springs in the Mojave Desert 
Marl Springs GPS: 35.170700,-115.647590
Lava Tubes: The Mojave Desert Lava Tubes are off Aiken Cinder Mine Road 3 miles north of the Mojave Road. Within the lava field is a short trail leading to subterranean tubes formed by molten lava. A stout steel ladder takes hikers down into the tubes where a few skylights above light things up. Bring a flashlight if you want to explore inside. 
Lava Tubes GPS: 35.216348,-115.751417
We will setup camp at a location TBD near Seventeen Mile Point
Approximate total mileage for Saturday @ 70miles
Sunday May 5th

Break camp and head westward. We will travel through the Eastern edge of the Dry Soda Lake. Bring a rock to leave at the Rock Monument. Read the secret sign at the rock monument (but do not tell a soul about what is inscribed after you read it.)
This is IMPORTANT! Make sure you have a rock to put donate to the Travelers Monument for good luck and prosperity! Find one along the trail, or bring one from home!
This will be the final day on the Mojave Road, as we will go through the Dry Soda Lake, onward towards the River Crossing and other sights such as the Railroad trusses, Afton Canyon and other sights.
Bypass: Turn Right/NW onto Rasor Road towards Barstow/Mojave Freeway. Exit Afton Canyon Road and rally up at the Afton Campground.
Depending on how everyone is feeling, we will camp near Afton Canyon Campground, if not at it. If you want to camp there, it's $6/night and has a vaulted toilet. Afton campground is along the Mojave River and near the crossing. I would assume the bypass group will get there first and can setup camp or drive to West side of crossing to watch others cross (or turn around if the spring waters are too high!)
Approximate total mileage for Sunday @ 50miles
Monday May 6th
Break camp and head out
2 Events
V
Rank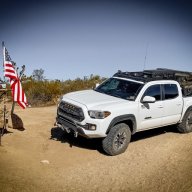 BettyWhiteOneSeven
16499
Modesto, CA, USA
01/18/19
6 of 20
V
Robbie WagnerRipon, CA Member since 23 Sep 2017
1

John StanfieldSanta Ynez, California Member since 25 Aug 2018
0
This Rally Point location and route can be downloaded if the buttons are active. The "Launch Google Earth" option will allow you to review the location in 3D. Please keep in mind, actual terrain may vary greatly. This should be used for reference only.
Save KML
Save GPX
PDF
Launch in Google Map
Launch in Google Earth